BY WALTER OPINDE 
As you enjoy the weekend holiday memories as an American, do you really know the origins of the Memorial Day and who were behind its creation? Okay, the former (freed) slaves did it. This gives the Memorial Day an African-American origin.
Currently, the Memorial Day in the U.S. is a federal holiday for reflecting on the memories of the people who died during the Civil War while serving the interests of their country. Many historical documents reveal that the Memorial Day (originally known as the Decoration Day) was created in 1868, three years after the American Civil War. This year, an organization of the Union of Veterans, Grand Army of the Republic, in Decatur, Illinois, established the Decoration Day as a memorial day in which the nation could decorate the graves of the dead Union soldiers with flowers.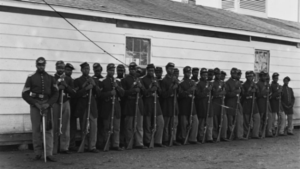 As Professor Blight David of the Yale University affirms, the first Memorial Day occurred on that day, 1st May, 1865, when a multitude of African-Americans, mostly the freed slaves, gathered to commemorate and give, approximately 257 dead Union soldiers, a proper burial/send off.
The multitude of the black community in Charlton then consecrated and decorated the new cemetery, accompanied by more than 3,000 African-American school children and the unforgettable parade of more than 10,000 people. That is how the Decoration Day (Memorial Day) started.
On this first day of May, 1865, the freed slaves gathered in Charleston, South Carolina, to commemorate the death of Union soldiers, and to celebrate the end of the American Civil War. The General, John Logan, three years later, issued a special order for the observation of the date May 30, 1868, as the Decoration Day, which many historical records refer as the first Memorial Day. He precisely specified that the day would be set aside for the purpose of decorating, or rather, strewing with flowers the graves of the fallen soldiers. These were the civil war victims who died in the line of duty while defending their precious country. Their bodies still lie in almost every village, city, and at the Hamlet Church-yard in the nation's land.
By the dawn of the 20th century and towards the middle of the century, Americans were confronted by a great number of enemies both locally and internationally. Many of those who survived the Civil War (mostly the black veterans) realized the importance of sharing their wartime history, thereby reconciling their differences and coming together as a united nation. The Memorial Day was thus pronounced a National Holiday in the U.S.
Read more of the related stories via:
http://www.snopes.com/military/memorialday.asp
http://www.huffingtonpost.com/jim-downs/memorial-day-2012_b_1545507.html
http://247wallst.com/general/2016/05/29/black-americans-invented-memorial-day/