In Americus, Georgia as in other parts of the South, young people were fired up by meetings at local Black churches. They had become faithful foot soldiers of the civil rights movement. Many had already taken part in sit-ins, protests and picketing at segregated public library and the local courthouse, and voter registration drives were plentiful in the early 1960s.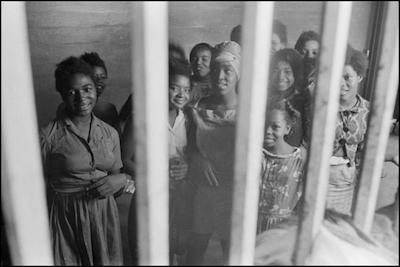 In July 1963, approximately two hundred African-American youth met in downtown Americus to peacefully protest local segregation. Police eventually moved in to arrest the young protestors after sanctioning violent attacks by a white mob.
Many of the protestors were released shortly after being arrested, however, thirty-three young black girls found themselves held in an abandoned Civil War-era prison for two months. The group of girls became known as the "Stolen Girls."
The youngest girl arrested and kept jailed was ten-years-old and the oldest was sixteen. They were arrested and kept without their parents being notified and transferred to the "Leesburg Stockade," twenty miles outside of their hometown. The young girls were not fed for two days and survived the following days on rations of undercooked hamburgers and egg sandwiches provided by jailers. Sleeping on dirty mattresses and without a working toilet, the girls shared their space with mosquitoes, gnats, and, on one occasion, a snake was thrown into the room by the guards.
SNCC photographer Danny Lyon finally located the girls after searching for  weeks throughout the region; he alerted community members. once they were found. In the ultimate indignity, parents later received a bill with a charge of two dollars for every day their child was imprisoned. Many of the Stolen Girls continued to be active in the Sumter County Movement after escaping the Leesburg Stockade but received little recognition of their struggles.
sources:
http://www.walb.com/story/5190050/stolen-girls-remember-1963-in-leesburg
http://www.blackpast.org/aah/stolen-girls-july-august-1963