The Texas Seminole Scouts were descendants of runaway slaves who fled into Florida before the Civil War. Freedom offered by the Spanish was all it took to encourage South Carolina and Georgia slaves to vote with their feet. Many blacks joined the Seminoles, and in some cases became slaves for the Seminoles as well. Although the Seminole Blacks and the Seminoles did not live together, they did cooperate when it came to military and mutual defense. Around 1838, both groups began to move toward Indian Territory.
With an uncertain legal status and the prospects of re-enslavement, life for the Seminole Blacks proved very precarious. Many of them fled to Mexico to live as free people. While in Mexico, they served the Mexican government by countering Indian incursions and attacks.  The Black Seminoles remained in Mexico until 1870, when United States military officials in Texas invited them to return to the U.S. and serve as Army scouts. The Seminole scouts fought in several successful engagements with Comanches, Kiowas, Apaches and Kickapoos.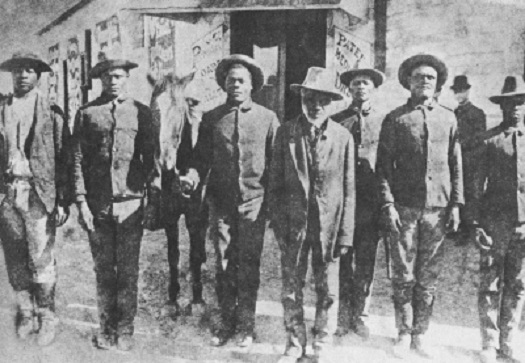 The Black Seminoles, a group of about 200 people at the time, accepted the agreement as they believed they would be granted land, food, provisions, and reimbursement for traveling costs. However, none of these conditions were met. The future scouts crossed the international border on July 4 and were officially mustered into service on August 18 at Fort Duncan, Texas.
The Black Seminole Scouts were disbanded 21 years later in 1914. The group at the time was forced to leave the Fort Clark reservation with their families. Just 27 Black Seminoles were allowed to remain at the fort, but only until the elders of the group had departed.
source:
http://www.legendsofamerica.com/tx-blackseminolescouts.html