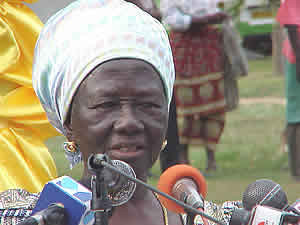 Key Highlights About Esther Afua Ocloo:
First person of African ancestry to obtain a cooling diploma from Good Housekeeping Institute
Pioneer in micro-lending
Founder of the Women's World of Banking (1976)
Esther Afua Ocloo was a Ghanaian entrepreneur and pioneer of micro-lending, a program of making small loans in order to stimulate businesses. She was one of the founders of Women's World Banking in 1976, with Michaela Walsh and Ela Bhatt.
Afua Nkulenu was born in the Volta Region to George Nkulenu, a blacksmith, and his wife Georgina, a potter and farmer, both of the Ewe people. She was sent by her grandmother to a Presbyterian primary school, and eventually ended up in a coeducational boarding school at Peki Blengo. Because of poverty, she traveled weekly from home to the school, taking food supplies each week which she cooked for herself to avoid expenses.
When she won a scholarship to Achimota School, her aunt provided her with money to travel to the school there she studied from 1936 to 1941, obtaining the Cambridge School Certificate. Ocloo served as the school's first chair of trustees. She received the 1990 African Prize for Leadership and numerous other honors for her work on behalf of economic empowerment of women and families.
Afua Ocloo was the first person of African ancestry to obtain a cooking diploma from the Good Housekeeping Institute in London and to take the post-graduate Food Preservation Course at Long Ashton Research Station. During the 1970s, Ocloo worked at a national and international level in the economic empowerment of women. She was appointed as an adviser to the Council of Women and Development from 1976 to 1986, a member of Ghana's national Economic Advisory Committee.
Afua Ocloo also assisted in forming a women's group, known as Bible Class, in the E.P. Church, with the aim of studying the Bible and home management. She served on the synod committee of the E.P. Ocloo died in Accra, Ghana after she developed pneumonia in 2002.
source:
https://www.britannica.com/biography/Esther-Afua-Ocloo