After Blacks were freed, those who had been enslaved began wanting to search for loved ones. They had long lost family members who were sold straight off the ship, or friends and family that were sold from one plantation to the next. These people turned to the newspaper as a method to search for these loved ones. The Historic New Orleans Collection has made available a digital collection of more than 250 "Lost Friends" advertisements which appeared in the city's Methodist Southwestern Christian Advocate newspaper. The paper and advertisement were dated back to 1879 and 1880. The collection was made to search by either using the location or name, but it can also be browsed at random.
Although the Freedmen's Bureau was set to help work with people find their lost ones, there were too many obstacles keeping the project from working. The Freedmen's Bureau encountered a lack of financial resources and scanty documentation that was kept by slave traders. The truth is many people were unable to reunite with their missing loved ones through the Bureau, so they turned to the newspaper as another means of finding their family and friends.
The Cost to Place Newspaper Ads
Subscribers to the newspaper were not charged. Individuals who were not subscribers were required to pay 50 cent. Even at 50 cent that was a significant amount of money for a free person to invest in finding their loved one. Most people were only making between 5 and 25 dollars a month, and this was working six days a week. When pastors of a church could help out they would read the newspaper ad aloud in their church to help those searching for their loved ones.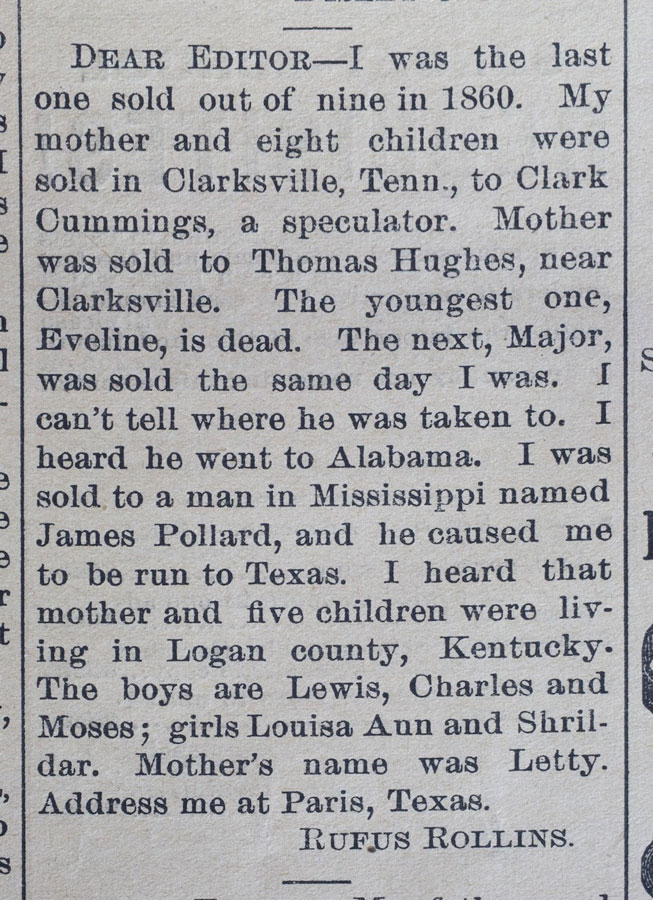 A Look at Ads Placed by Freed Slaves
May 6, 1880 an ad was placed by Rufus Rollins. The ad told of a family that had been separated right before the war. He wrote that he was "run to Texas"—an expression that might refer to the practice of "moving" enslaved Blacks during the war, or getting them far away from the Union Army.
---
May 27, 1880 Crecy Stepto placed an ad looking for a husband last seen more than three decades before. It was a circumstance not unusual among those who chose to advertise. "It is likely that those who searched after a long time had created other significant relationships in their lives. Some people remarried, had other children, however the memories and caring for the other life never stopped.
There are many letters that have been written by slaves searching for loved ones. Slaves who wrote letters to their old masters, and slaves who were having legal problems. Many of these documents can be found in the The Historic New Orleans Collection.
References: