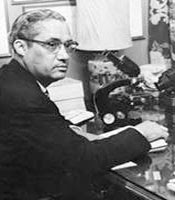 Theodore Lawless was a dermatologist, philanthropist, and medical pioneer. He worked tirelessly to find a cure for leprosy and made several strides in the treatment of both leprosy and syphilis.
Lawless was born on December 6, 1892 in Thibodeaux, Louisiana, to Alfred Lawless Jr., and Harriet Dunn Lawless. Shortly after his birth, the family moved to New Orleans. Known by his friends as "T.K.," Lawless attended Straight College. He received an A.B. degree at Talladega College in Alabama in 1914. Lawless attended the University of Kansas medical school, earned an M.D. from Northwestern University in 1919, and an M.S. in 1920. After a one-year fellowship of dermatology and syphilogy at Massachusetts General Hospital, Lawless completed his postgraduate training at the University of Paris.
He opened his own practice in 1924 in a predominantly black neighborhood in Chicago. During that same year, he began teaching dermatology at Northwestern University Medical School where he worked until 1941.
Lawless made a number of contributions to the field of dermatology. His research was published in such scholarly publications as American Journal of Dermatology, Journal of Laboratory and Clinical Medicine. He supported several Jewish-related causes in appreciation for the support he received from Jewish physicians when he sought letters of reference to study in Europe. Of the 12 references he received, 11 were from Jewish physicians.
source:
http://aaregistry.org/historic_events/view/theodore-lawless-tireless-medical-icon