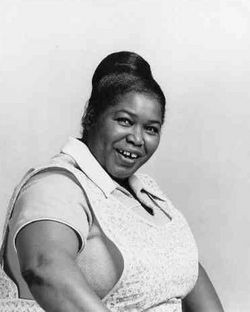 Theresa Hines was an American stage, film, and television actress and singer.
Theresa Merritt Hines was born on September 24, 1922, in Emporia, Virginia. As a teen, Hines appeared on a radio show, targeting black audiences, entitled "Parisian Tailor's Colored Kiddie Hour."
She studied at the Settlement School of Music in Philadelphia and at Temple University and New York University. Hines was a member of Delta Sigma Theta Sorority, Inc. At the age of 21, she was picked by Billy Rose for the part of Frascetta in his 1943 Broadway production of "Carmen Jones."
Her most notable film roles were Aunt Em in the 1978 film version of The Wiz, Mrs. Crosby in the 1977 film adaptation of Neil Simon's The Goodbye Girl, and Juanita in the Adam Sandler comedy Billy Madison. She also appeared alongside Burt Reynolds and Dolly Parton in the film adaptation of The Best Little Whorehouse in Texas.
Producers of the movie Ghost originally wanted her for the part of Oda Mae Brown but Patrick Swayze insisted they cast Whoopi Goldberg instead.
She was married to Benjamin Hines and they had four children. During Delta Sigma Theta 34th National convention Hines and E. Fannie Granton of Jet magazine were made honorary members of the sorority. Merritt died of skin cancer on June 12, 1998, in The Bronx
Hines appeared in many theatrical productions but gained fame later in life when she starred in Ma Rainey's Black Bottom, for which she earned a Tony Award nomination, and The Wiz, in which she replaced Mabel King as Eveline.
Sources:
http://www.tv.com/people/theresa-merritt/
http://www.imdb.com/name/nm0581449/bio