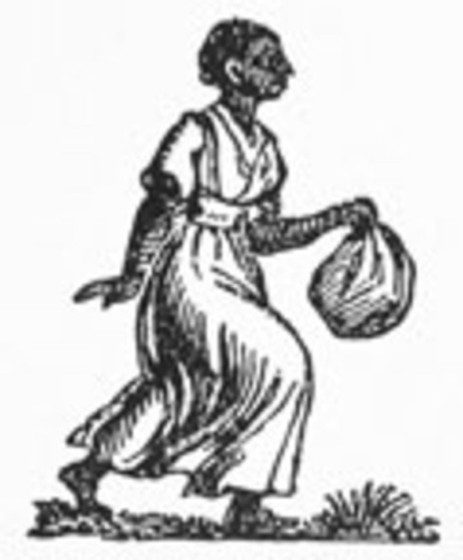 In 1850, a businessman from western Arkansas, John Drennen, and his wife, signed the register at the sumptuous Monongahela House, a five-story hotel on Water Street in Pittsburgh. Their 14-year-old African slave was directed below to the servant's quarters.
It was a long and tiresome trip, which lasted more than a month, traveling southeast through navigable sections of the Arkansas River or overland by carriage. When the Drennen family reached the Mississippi River, they made their way north by steamboat, through dangerous currents and the steamy summer weather. Reaching Pittsburgh in July, a carriage at the Monongahela wharf stood ready to take the Drennens to Monongahela House, the city's finest hotel. The young slave girl followed closely behind with the luggage.
The young slave was in charge of keeping the clothing organized and ready to be worn. While in her master's room that evening, she emptied trunk before filling it again with damaged clothing—shirtwaists with torn buckles, shirts with rips, shoes with their soles coming loose. The trunk now would go to an assortment of service people: washerwomen, seamstresses, cobblers, bootblacks.
Staff at the hotel had been kind to the young slave girl. After dressing her mistress for dinner, she called for a porter to help her with the trunk. The servants explained to the young girl, that they were servants but they were not slaves. She was not aware of the laws in Pennsylvania, and so she found out that slavery had long been abolished in the state. Pennsylvania had long abolished slavery and that in recent years all slaves, except for fugitives, were banned from the state. So, the young girl took it as her golden opportunity to escape, she did not leave in disguise, she simply opened the hotel's back rear door and walked away into freedom. The Drennens' clothes were returned to them, but as for the young slave girl, she was never to be found or heard from again.
sources:
http://www.encyclopediaofarkansas.net/encyclopedia/entry-detail.aspx?entryID=7937
http://www.library.pitt.edu/freeatlast/fugitive_laws.html