Yusef Lateef was a renowned composer, flutist, oboist, and tenor saxophonist. He explored Afro-Asian musical styles during the early 1950s, and produced several recordings.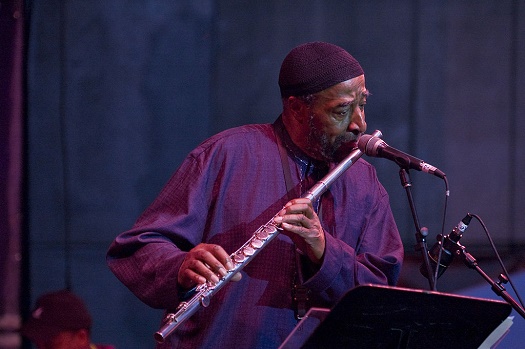 Yusef Lateef was born "William Emanuel Huddleston" on October 9, 1920, in Chattanooga, Tennessee. In 1925, he moved with his family to Detroit. Throughout the years, Lateef established a longstanding friendship with such masters of American music as Tommy Flanagan, Barry Harris, Milt Jackson, and many more.
He was already proficient on tenor saxophone while he was only in high school, and at the age of 18, he began touring professionally with swing bands led by Hartley Toots, Hot Lips Page, and Roy Eldridge. In 1949, Dizzy Gillespie invited him to perform with his orchestra.
In 1950, he returned to Detroit and to enroll in the Wayne State University's Music Department studying composition and flute. While at Wayne State, he converted to Islam and changed his name to Yusef Lateef.
In 1960, he returned to New York and enrolled in the Manhattan School of Music to further his studies in flute and music education. In the 1960s and '70s, Lateef worked with Cannonball Adderley, Charles Mingus, and Babatunde Olatunji
His most famous recordings were on the Impulse! and Atlantic labels, where he released "Jazz 'Round The World," "The Gentle Giant," and "Hush 'N' Thunder," which held some of his best mainstream and Negro spiritual-derived compositions.
In 1992, he established his own label, YAL. A year later, Yusef Lateef composed his most ambitious work to date, "The African American Epic Suite," a four-movement work for quintet and orchestra dedicated to 400 years of African-American history. It premiered with the WDR orchestra and later was also performed by the Atlanta Symphony Orchestra and by the Detroit Symphony Orchestra. Lateef died on the morning of December 23, 2013, at the age of 93.
sources:
http://aaregistry.org/historic_events/view/dr-yusef-lateef-composera-flutist-oboist-and-tenor-saxophonist
https://en.wikipedia.org/wiki/Yusef_Lateef