If I don't blow my harp, I hurt. God put that on me to make me play. He wanted me to use my talent.
Musician DeFord Bailey was called "the most significant black country star before World War II." Bailey was born on December 14, 1899 in Smith County, Tennessee. His mother, Mary Reedy, named him after two of her former schoolteachers, Mr. Deberry and Mrs. DeFord. Bailey's mother died when he just shy of a year old from an unknown illness. His father, John Henry, had a younger sister who then helped raise him. It was his aunt who became his foster mother and gave him his first harmonica.
My folks didn't give me no rattler, they gave me a harp, and I ain't been without one since.
By the age of three, Bailey was facing a potentially deadly disease, infantile paralysis, also known as polio. He was confined to his bed for a year, and was only able to move his head and arms. During this period, there was not much that medical professionals could do apart from making sure that the patient was comfortable. It was during this time that Bailey truly discovered the sweet sounds of music. He would lie in bed and listen to all the sounds around him. Although he made a recovery from the disease, he still endured physical complications; his growth was stunted and he walked with a hunchback.
After the death of his biological father, Bailey relocated to Nashville to live with his aunt and foster father. At the time, his foster parents were working for one of the most prominent families in Nashville, and arranged for Bailey to become a houseboy. Initially, Bailey would run errands, set the table, and clean and polish silver. However, when the family found out about Bailey's musical prowess, his role in the household changed.
I'd wear a white coat, black leather tie, and white hat. I'd have a good shoeshine. That all suits me. That's my make-up. I never did no more good work. My work was playing the harp.
Bailey's foster mom died in 1923, and the death devastated the whole family, especially Bailey. After her death, the family slowly drifted apart. Bailey's foster father moved to Detroit to work at the Henry Ford automobile company, but Bailey stayed back in Nashville and worked odd jobs. Bailey later began a radio career in 1926 with Nashville's WSM.
He also had several records issued in 1927 and 1928, all of which featured harmonica solos. In 1927, he recorded for Brunswick records in New York City. Bailey was a pioneer member of the WSM Grand Ole Opry, and one of its most popular performers, appearing on the program from 1927 to 1941.
During this period, he toured with many major country stars, including Uncle Dave Macon, Bill Monroe, and Roy Acuff. Bailey lost his job at WSM in 1941 because of a licensing conflict, which prevented him from playing his best known tunes on the radio. His performance career came to an end after the incident, and he went back to shining shoes and renting out rooms at his home to make a living. He continued to play the harmonica for his pleasure, but not for the public. He died on July 2, 1982 in Nashville.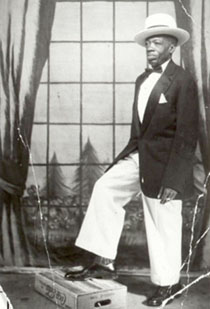 source:
http://netowne.com/deford/deford.htm
http://www.pbs.org/deford/biography/opry.html