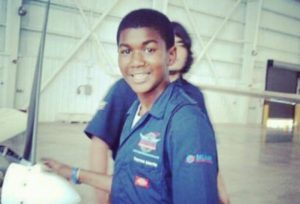 An aviation school in Florida is honoring Trayvon Martin with a posthumous degree at its commencement this month.
Florida Memorial University, a historically black college, announced in a Facebook post Wednesday that the 17-year-old, who was gunned down by a neighborhood watchman in 2012, will receive a bachelor's degree in aeronautical science with a concentration in flight education on May 13.
The degree will honor the "steps he took during his young life toward becoming a pilot." His parents, Sybrina Fulton and Tracy Martin, will accept the degree on his behalf.
The university's president, Roslyn Clark, said that awarding the posthumous degree is important for the school and noted that Fulton is an alumna of the HBCU.
"Of special significance is awarding posthumously the Bachelor of Science Degree in Aviation to Trayvon Martin. Sybrina, our alum, epitomizes strength and dignity as she uplifts other victims of violence while effecting change for a more equal and just society," Clark said in the press release.
To read the entire article, go to: huffingtonpost.com
Source:
article written by Taryn Finley via huffingtonpost.com