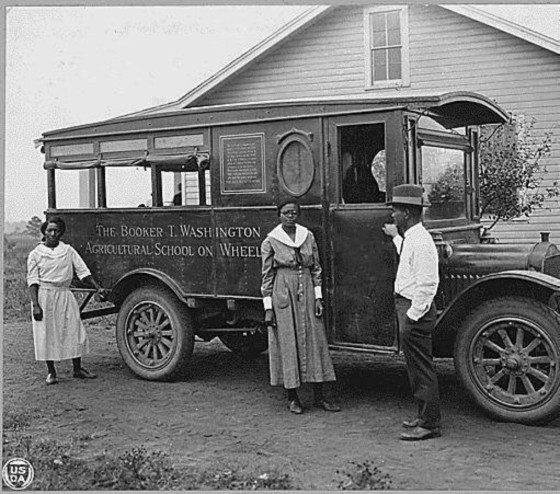 The Tuskegee Institute Movable School was an outreach effort of the Tuskegee Institute (now Tuskegee University) aimed at bringing modern agricultural tools and methods to rural areas and people in Alabama. First established by agricultural researcher and professor George Washington Carver.
The Movable School operated in several official incarnations, starting with the Jesup Agricultural Wagon in 1906 and ending with the Booker T. Washington Agricultural School on Wheels through 1944.
From its inception, Booker T. Washington envisioned Tuskegee Institute as having an outreach mission. Soon after he arrived in Macon County to establish the Tuskegee Normal and Industrial Institute in 1881, Washington began to make regular trips on horseback to talk, eat, and stay overnight with the rural people he hoped to educate at his school.
It soon became obvious to Washington, that those who needed education the most were the region's farmers; he further realized that that education must be brought to those farmers, who were generally tied to their land and unable to travel for instruction.
George Washington Carver arrived at Tuskegee  in 1896 to head the school of agriculture. As head of the school's agriculture program, he put in motion his practice of rural visits further by loading a buggy with tools and materials and traveling to farms on weekends to give practical demonstrations. The activity was formalized when Washington gained political support in 1897 from the Alabama State Legislature to establish the Tuskegee Agricultural Experiment Station, which included a four-wheeled coach, or "carry-all," loaded with tools, seed packets sent by U.S. Secretary of Agriculture James Wilson, and some boxed demonstration plants, to help educate farmers.
original article found at:
http://www.encyclopediaofalabama.org/article/h-1870