Velma Middleton was an American jazz vocalist. She is best-known for singing with Louis Armstrong's big bands and small groups. She was originally a dancer and, although overweight, she often did splits on stage, even during her Armstrong years. Middleton had an average but pleasing and good-humored voice.
After Armstrong broke up the orchestra in 1947, Middleton joined his All-Stars. She was often used for comic relief, such as for duets with Satchmo on "That's My Desire" and "Baby, It's Cold Outside", and she did occasional features. Few jazz critics thought highly of her singing, but Armstrong considered her part of his family, and she was a constant part of his show.
Middleton suffered a stroke while touring with Armstrong in Sierra Leone in January of 1961. She died the following month in the hospital in Freetown. Musician Barney Bigard was critical of Armstrong and his manager Joe Glaser for refusing, after Middleton was taken ill, to arrange her transfer to a country with better health facilities.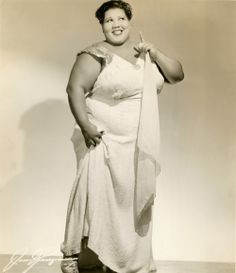 sources:
http://www.allmusic.com/artist/velma-middleton-mn0000263248