Pioneer actor Rex Ingram made his Broadway debut in the late 1920s. He appeared in several Broadway productions with his final role being in Kwamina in 1961. He traveled to Hollywood and was discovered on a street corner by the casting director for Tarzan of the Apes. Ingram became widely recognized because of his powerful voice and presence.
Ingram was born near Cairo, Illinois, on the Mississippi River; his father was a steamer fireman on the riverboat Robert E. Lee. He was the son of Mack and Mamie Ingram. He graduated from Northwestern University with a degree in medicine before launching an acting career that spanned 50 years. His first marriage was to actress Francine Everett from 1936 until their divorce in 1939
In 1948, Ingram was arrested for violating the Mann Act. He pled guilty to the charge of transporting a teenage girl to New York for immoral purposes and was sentenced to 18 months in jail. He served just ten months of his sentence, but the incident had a serious effect on his career. Ingram lost his home in Warm Springs Canyon, California, and suffered from bouts of depression and self-doubt, but he refused to quit.
In 1951, Ingram made his first appearance since his prison sentence in Nick Stewart's "Christopher Columbus Brown." He never achieved the stardom he had before being arrested. Ingram also guest starred in TV episodes, including "Gunsmoke," "Daktari," "Branded," "Sam Benedict," "I Spy," "Playhouse 90," and "The Bill Cosby Show." He died in 1969 at the age of 73.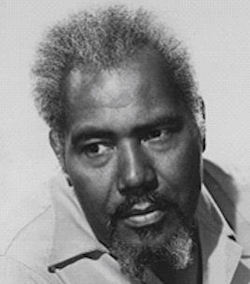 source:
http://www.blackpast.org/aah/ingram-rex-1895-1969