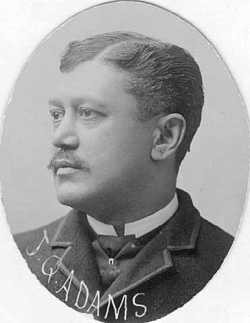 The Western Appeal was first published on June 5, 1885, it was one of the most successful African-American newspapers of the nineteenth century and early twentieth century. Due to popularity, the newspaper was published in six different editions across the United States. Although it was not rare to see African-American newspapers, most of them only stayed in circulation for a year, at most.
The founders of the Western Appeal were Samuel E. Hardy and John T. Burgett with Frederick Douglass Parker, who also served as the newspaper's first editor. It was a weekly paper, with an edition each Friday containing news, editorials, advertisements, and a literary page. Subscription rates were affordable, at only two dollars a year. The newspaper served as a community organizer. It was a place for African-Americans to express their frustrations, find common ground, and call for action.
Parker resigned as editor and a new management team took over. Prominent St. Paul businessmen Thomas H. Lyles and James Kidd Hilyard led the team and put their own money into the paper to save it. In February 1887, the team reorganized under the name Northwestern Printing Company. It provided job order printing services in addition to publishing the Western Appeal, which kept the paper afloat financially over the long term.
Lyles and Hilyard initially convinced Parker to return to the Western Appeal as editor. But by January 1887, Parker had resigned again to take another position. Lyles and Hilyard then promoted associate editor John Quincy Adams to editor. He moved to St. Paul in 1886 at the request of Lyles and Hilyard to work at the Western Appeal. With his promotion, Adams became the driving force behind the newspaper.
Adams wrote forceful editorials for the rights of African Americans. He participated in Minnesota Republican party politics and was involved in civic life in St. Paul. But over time, as the African American community split between the followers of Booker T. Washington and W.E.B. DuBois, Adams' strong support for Washington caused his reputation to suffer.
With the growth of African American civil rights organizations such as the National Association for the Advancement of Colored People (NAACP) and the Urban League, the influence and importance of newspapers like the Appeal began to decline and ultimately closed in the 1900s.
sources:
http://chroniclingamerica.loc.gov/lccn/sn83016811/
http://aaregistry.org/historic_events/view/appeal-newspaper-was-popular-20th-century-black-america