Powhatan Beaty was a soldier and actor who served during the American Civil War in the Union Army's 5th United States Colored Infantry Regiment during the Richmond-Petersburg Campaign. Beaty was decorated with the highest military decoration, the Medal of Honor, for taking command of his company at the Battle of Chaffin's Farm after other officers were either wounded or killed.
Beaty was born into slavery in 1837, in Richmond, Virginia. He later moved to Cincinnati, Ohio, in 1849, where he received an education. He gained his freedom sometime around 1861, but the exact date is unknown.
While in school, he developed an interest in the arts and acting. He made his first public acting appearance in a school concert. After school, he was apprenticed as a black cabinet maker and eventually worked as a turner. He took private acting lessons and continued working with several stage coaches.
By June 1863, Ohio had not yet fielded an African-American combat unit, but Ohio blacks were being recruited for service in the regiments of other states. Beaty enlisted from Cincinnati on June 7, 1863, for a three-year term of service in the Union Army; he was among a group of men recruited for a Massachusetts regiment. He joined as a private and was promoted to sergeant two days later.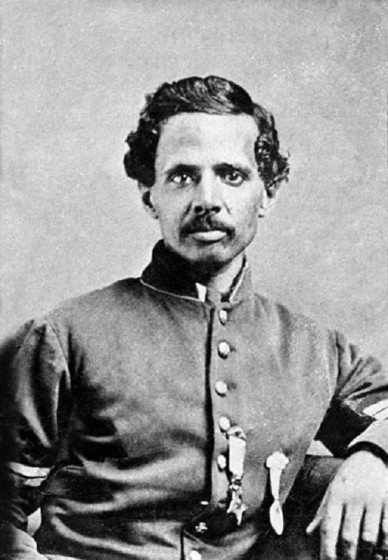 During the Battle of Chaffin's Farm in 1864, Beaty rose to the rank of the first sergeant in Company G. His regiment was among a group of black troops assigned to attack the center of the Confederate defenses at New Market Heights. The attack was met with intense Confederate fire and was eventually turned back.
During the retreat, Company G's color bearer was killed; Beaty returned about 600 yards of enemy fire to retrieve the flag and bring it back to the company lines. The regiment suffered severe casualties in the failed charge. Of Company G's eight officers and 83 enlisted men who entered the battle, only 16 enlisted men, including Beaty, survived the attack unwounded.
After the war, Beaty returned to Cincinnati to raise his family. He resumed his life as a turner and actor. He often gave public speeches and readings for charitable causes, and became a well-known elocutionist in the black community.
In January 1884, Beaty was working as an assistant engineer at the Cincinnati water works when Henrietta Vinton Davis, a prominent African American actress, came to perform in the city. Together, he and Davis put on a large musical and dramatic festival in Melodeon Hall, which proved to be very successful. The production lead to other acting performances for Beaty, such as appearing as the main actor in a Washington, D.C., Shakespearean production. Beaty died in 1916 at the age of 79.
source:
http://civilwar.wikia.com/wiki/Powhatan_Beaty