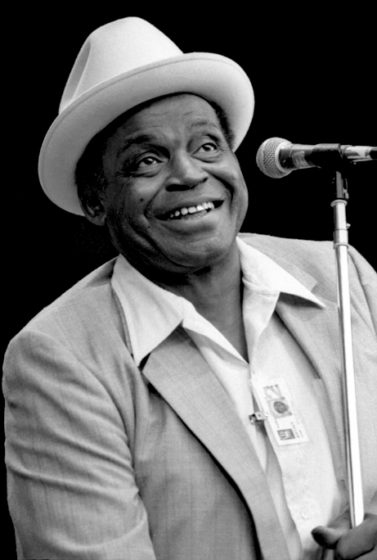 William James "Willie" Dixon was a blues musician, vocalist, songwriter, and record producer. He is best known as one of the most prolific songwriters of his time. Some of his most famous compositions include "I Just Want to Make Love to You," "Spoonful," and "Hoochie Coochie Man." These songs were written during the peak of Chess Records, 1950–1965, and performed by Muddy Waters, Howlin' Wolf, Little Walter, and Bo Diddley; they influenced a generation of musicians worldwide.
Dixon was born on July 1, 1915, in Vicksburg, Mississippi. His mother, Daisy, often rhymed things she said, a habit her son imitated. At the age of seven, young Dixon became an admirer of a band that featured pianist Little Brother Montgomery. He sang his first song at Springfield Baptist Church at the age of four.
In his twenties, he left Mississippi for Chicago. He stood over 6 and a half feet tall and weighed 250 pounds, which led him to take up boxing. Dixon became a professional boxer and worked as Joe Louis's partner briefly.
Dixon met Leonard Caston at a boxing gym, where they would harmonize at times. Dixon performed in several vocal groups in Chicago, but it was Caston that persuaded him to pursue music seriously.
Along with Caston, Dixon was a founding member of the group, Five Breezes. Dixon's progress with his musical career, came to an abrupt halt with the advent of World War II, when he refused induction into military service as a conscientious objector and imprisoned for ten months. He refused to go to war because he would not fight for a nation that believed in racism and where racist laws were prevalent.
He signed with Chess Records as a recording artist, but shortly after, began performing less. Dixon became more involved with administrative tasks for the label. By 1951, he was a full-time employee at Chess, where he acted as producer, talent scout, session musician and staff songwriter. In 1977, unhappy with the small royalties paid by Chess's publishing company, Arc Music, Dixon and Muddy Waters sued Arc, the company. The proceeds from the settlement, founded their publishing company, Hoochie Coochie Music.
Dixon's health began to deteriorate increasingly throughout the 1970s and 1980s due to complications with diabetes. He was inducted into the Blues Hall of Fame in 1980. In 1989, he received a Grammy Award for his album Hidden Charms. William Dixon died of heart failure on January 29, 1992.
sources:
https://www.britannica.com/biography/Willie-Dixon
https://fishbellyblues.com/tag/chicago-blues/