After the Emancipation Proclamation, some slave owners hid the news from their slaves of their freedom. It was not until Maj. Gen. Gordon Granger arrived with 2000 troops traveling into Galveston, Texas, that many slaves learned of their freedom. One woman, a former slave named Tempie Cummins, told the Federal Writers' Project in 1939 that her mother overheard the master say that the slaves didn't know they were free, and he wasn't going to tell them until after "another crop or two." Cummins and her mother ran away that night.
Government agents went across the country to see if the slaves had been freed. To accomplish this, they would ask black people, "How are you working? What are you getting?" Some slaves would reply that they were not getting anything. If that was the case, the agent would have the owner present himself in front of the government. Some blacks might have been working as long as a year before they found out they were due payment for their labor.
By the end of the Civil War, most Southern planters were out of money; as their slaves were freed, they needed to determine how to secure labor for their plantations. However, a lot of freedmen had no money, food, or clothing, so in despair, they were driven to work for little money.
The planters took advantage of the destitute situations of the former slaves. Many workers received housing, seeds, and credit at a commissary store. When the crop was sold, black workers were supposed to share in on the crop, but many ended up owing for the credit that was extended out to them. There were also many people who were dishonest with the bookkeeping, which kept slaves in debt to the plantation owner for years. If black workers tried to skip out on paying their debt, they would be arrested and often sent to work building railroads and performing other physically challenging work.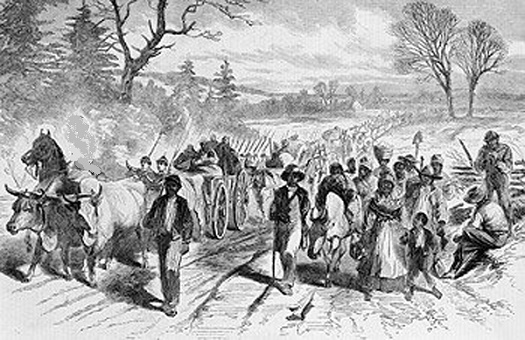 sources:
http://www.theroot.com/articles/history/2013/07/free_blacks_in_the_south_why_did_they_stay.html
http://www.neworleansonline.com/neworleans/multicultural/multiculturaltraditions/juneteenth.html