William J. Durham was a black civil-rights activist and attorney. Durham was born on a farm near Sulphur Springs, Hopkins County, Texas, in 1896.
After completing one semester at Emporia State College in Kansas, he served in the United States Army in France during World War I, after which he studied law in the office of Ben F. Gafford, a white attorney in Sherman, Texas. After passing the bar examination in 1926, Durham established his practice in Sherman and began taking on civil-rights cases.
In the Sherman riot of 1930 a lynch mob burned the black business district, including Durham's office. Though such lawsuits were rarely profitable, Durham had a lucrative practice as legal counsel to an insurance company and could therefore spend part of his time fighting for equal rights.
By 1940, Durham was recognized as the leading black lawyer in Texas. Gasoline shortages during World War II and his growing business ties and activities in the National Association for the Advancement of Colored People in Dallas gave him enough reason to relocate in 1943 from Sherman to Dallas, where he became known not only as a civil-rights champion and the most effective black leader of the NAACP, but also for his effectiveness in court and pretrial strategy. He took part in more than forty civil-rights cases involving such causes as school integration, voting rights, and equalization of teachers' pay.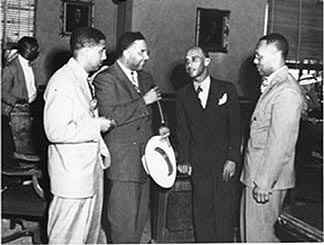 source:
https://tshaonline.org/handbook/online/articles/fdu46