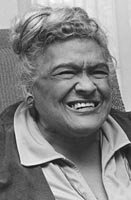 Zelma Watson George was an opera singer, educator, and international civic leader. George was born in Hearne, Texas, to Samuel and Lena Thomas. Her father was a Baptist minister. Her family lived in various cities throughout Texas, such as Hearne, Palestine, and Dallas; they also lived in Hot Springs, Arkansas, for a brief time during her childhood.
As a young child, she witnessed several prominent leaders, including Booker T. Washington, Carter Woodson, and W.E.B DuBois, as they visited her home to discuss important issues about African Americans.
After her father aided Black prisoners in Dallas, and some white Dallas citizens met him with criticism, her family moved to Topeka, Kansas. During this time, her father accepted another position as a pastor.
George graduated from the Topeka public school system and went on to enroll at the University of Chicago. George was not allowed to live in the dormitory with white women, so she continued to live at home with her family while in school.
She obtained a degree in sociology from the University of Chicago and studied voice at the American Conservatory of Music. She earned advanced degrees from New York University in Personnel Administration and Sociology. Her doctoral dissertation, A Guide to Negro Music: Towards a Sociology of Negro Music, was deemed to be so well-researched and executed that it allowed her to receive honorary doctorates from Heidelberg College and Baldwin Wallace College and Cleveland State University.
George served as a social worker for the Associated Charities of Evanston, Illinois, and was a probation officer for the juvenile court of Chicago. From 1932 to 1937, she was the dean of women and the director of personnel administration at Tennessee State University in Nashville.
Beginning in 1949, George performed in several stage presentations. She played and sang the lead role in Gian-Carlo Menotti's "The Medium," an opera that ran for 67 nights at the Karamu Theater in Cleveland and for 13 weeks in New York City at the Edison Theater. After "The Medium" closed on Broadway, George received the Merit Award of the National Association of Negro Musicians.
During the 1950s, she became involved with national and international political issues as an adviser to President Dwight Eisenhower's administration. She toured with the Defense Advisory Committee on Women on the Armed Services from 1954 to 1957, and served in 1958 on the president's committee to plan the White House Conference on Children and Youth.
George attended a "Ban the Bomb" conference in Ghana, West Africa, in 1963 and attended the First World Festival of Negro Art with Marion Anderson and Duke Ellington at Senegal in 1966. Also in 1966, she became the executive director of the Cleveland Job Corps Center for Women. She delivered the keynote address for the first Student International Security Council Meeting in 1969. She was awarded the Daughter of Ohio award by the Civic Recognition Committee of Ohio for Statewide Honors. Zelma George died on July 3, 1994, in Cleveland, Ohio.
sources:
http://ech.case.edu/cgi/article.pl?id=GZW
https://tshaonline.org/handbook/online/articles/fge25