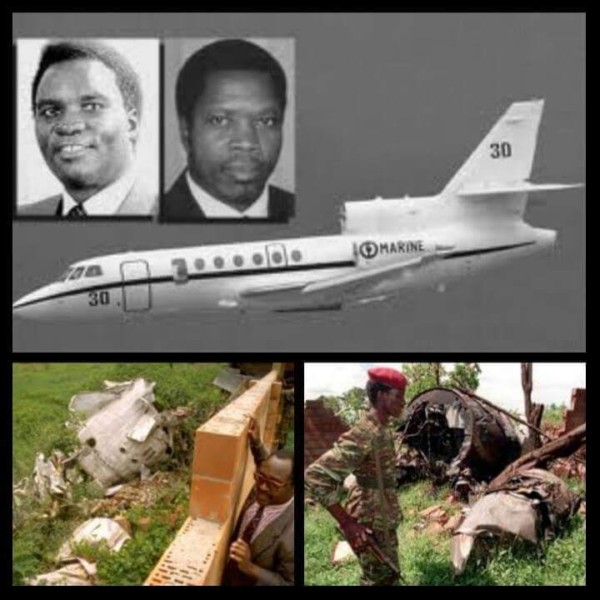 The Rwandan Genocide begins when the aircraft carrying Rwandan president Juvénal Habyarimana and Burundian president Cyprien Ntaryamira is shot down.
The Rwandan Genocide was a genocidal mass slaughter of Tutsi and moderate Hutu in Rwanda by members of the Hutu majority. During the approximate 100 day period from April 7, 1994 to mid-July, an estimated 500,000-1,000,000 Rwandans were killed, constituting as much as 20% of the country's total population and 70% of the Tutsi then living in Rwanda.
It was planned by members of the core political elite known as the akazu, many of whom occupied positions at top levels of the national government. Perpetrators came from the ranks of the Rwandan army, the National Police (gendarmerie), government-backed militias including the Interahamwe and Impuzamugambi, and the Hutu civilian population.
The genocide took place in the context of the Rwandan Civil War, an ongoing conflict beginning in 1990 between the Hutu-led government and the Rwandan Patriotic Front (RPF), which was largely composed of Tutsi refugees whose families had fled to Uganda following earlier waves of Hutu violence against the Tutsi.
International pressure on the Hutu-led government of Juvénal Habyarimana resulted in a cease-fire in 1993 with a roadmap to implement the Arusha Accords that would create a power-sharing government with the RPF. This agreement displeased many conservative Hutu, including members of the Akazu, who viewed it as conceding to enemy demands.
Among the broader Hutu populace, the RPF military campaign had also intensified support for the so-called "Hutu Power" ideology, which portrayed the RPF as an alien force intent on reinstating the Tutsi monarchy and enslaving the Hutus, a prospect met with extreme opposition.
Read more about the Genocide at: Daily Black History Facts