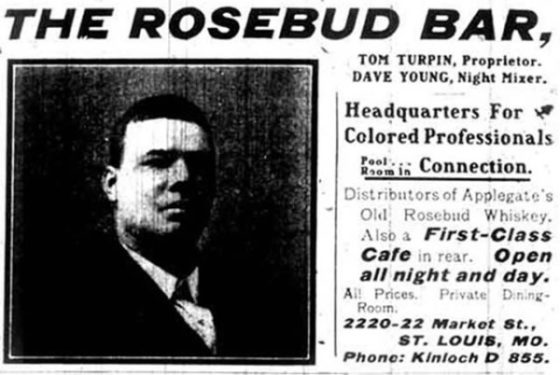 Tom Turpin was a musician and businessman whose bar in St. Louis became an important gathering place for ragtime musicians, including Scott Joplin. Turpin was born in Savannah, Georgia, and moved with his family to St. Louis in the early 1880s. Turpin's father ran a saloon and was active in local politics. Together with his brother Charles, Turpin traveled west and invested in a Nevada gold mine. When this venture proved to be unsuccessful, Turpin returned to St. Louis and opened the Rosebud Bar at 2220 Market Street. This saloon became a focal point for the ragtime music scene.
Turpin did not produce much music during his lifetime, his "The Harlem Rag" (1897) is considered the first published rag by an African American. His other compositions include "The Bowery Buck" (1899), "A Ragtime Nightmare" (1900), "St. Louis Rag" (1903), "The Buffalo Rag" (1904), and "Pan-Am Rag" (1914).
In 1916 Turpin opened another establishment at 2333 Market Street in Missouri, which at some point acquired the name The Jazzland Cafe. That year he wrote one last piece, a war song about black soldiers fighting in Europe, When Sambo Goes to France. It is likely that Turpin had written many more during his time at the Washington Theater, but once many of these pieces, some topical comic songs, had run their course in performance, they were probably disposed of leaving us with no lasting record. Turpin died on August 13, 1922, and is buried in St. Peter's Cemetery in St. Louis, Missouri.
sources:
https://en.wikipedia.org/wiki/Tom_Turpin
http://ragpiano.com/comps/tturpin.shtml