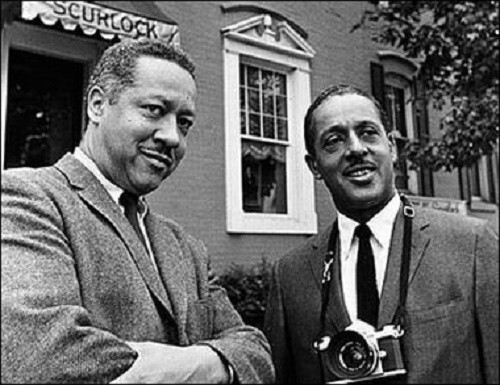 Addison Scurlock was the founder of the Scurlock Photographic Studio. He took portraits of such notables as educators Booker T. Washington and Mary McLeod Bethune, composer Samuel Coleridge-Taylor, engineer Archie Alexander, political leader W.E.B. DuBois, former first lady Mamie Eisenhower, singer Billy Eckstine, physician Charles R. Drew, opera singer Madame Lillian Evanti and poet Sterling Brown.
Scurlock was born on June 19, 1883 in Fayetteville, North Carolina. He graduated from high school there, which was a significant achievement for an African-American of the time. In 1900, he moved with his family to Washington, D.C. His father, George Clay Scurlock, who had previously run unsuccessfully for the North Carolina Senate, worked as a messenger for the U.S. Treasury Department, while studying law and later opened a law office on the 1100 block of U Street.
Scurlock began his career as a photographer as an apprentice to Moses P. Rice, who had studios on Pennsylvania Avenue. Between, 1900 and 1904, he learned the basics of photographic portraiture and the entire range of laboratory work.
In 1904, Scurlock started his own business at his parents' home on the 500 block of Florida Avenue. He focused on photographing students at Howard University, M Street and Armstrong high schools, and black universities and high schools throughout the South. In 1907, he won a gold medal for photography at the Jamestown Exposition. He opened the Scurlock Studio at 900 U Street (the African-American community's theater district) in 1911 and concentrated on portraiture and general photography. His clients included brides, achievers, and socialites.
Scurlock also produced a series of portraits of African-American leaders that historian Carter G. Woodson distributed to African-American schools nationwide. One of his most significant photographs was that of Marion Anderson singing in front of the Lincoln Memorial in 1939. Scurlock died on December 16, 1964 at the age of 81.
source: