Anthony Crawford was an African American who was killed by a violent lynch mob in Abbeville, South Carolina in 1916. Born during the Reconstruction era, his father was the owner of a small acreage of cotton fields. Crawford learned to read and write in a small school in town. After his father's death, he inherited the land and increased the acreage by making further purchases over the years.
By 1916, it is said that Crawford had over 400 acres of land. Known for being one of the richest black men in Abbeville County, he gave land to his children and allowed them to build homes close by. He was also known for his zero-tolerance against disrespectful people. Once he was accused by a preacher for meddling in church affairs, so he had no problem jumping to his feet, striking the preacher, firing him. He was quoted as saying, "The day a white man hits me is the day I die."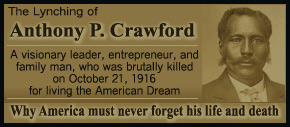 On October 21, 1916, Crawford was working as usual. He loaded up two loads of cotton and headed to W. D Barksdale's store. He had a disagreement with the owner, a white man, over the price offered for his cotton. After the agreement, one of the Barksdale's employees followed Crawford out of the store and struck him on the head with the handle to an axe. Crawford called for help, after which he was arrested, most likely for his own protection, as a mob of angry whites was already beginning to accumulate.
Crawford was held in jail briefly was later released on a $15 bail. After Crawford was released, a white mob was waiting and chased him into a nearby cotton mill. He fought for his life and struck one of the white men with a hammer. Crawford was then beaten and stabbed several times. He was again arrested, and the sheriff told the men that he would most likely die from his wounds.
The fear that Crawford might die before the mob could get to him coincided with the fear that the sheriff might allow him to leave town. Therefore, between 200 and 400 white men took over the jail, captured and disarmed the sheriff, and kidnapped Crawford.
Crawford was dragged through the black section of town with a rope around his neck. The mob then stole a lumber wagon from a black driver and used it to take Crawford to a fairground nearby. He was hanged from a tree and his body used for target practice. Although the governor got involved and demanded a full investigation, no one was charged for his brutal murder.
source:
http://www.ccharity.com/contents/transcriptions-wills-property-tax-rolls-inventory-lists-and-newspaper-clippings-contributed-website/lynching-anthony-crawford/
http://abhmuseum.org/2012/01/anthony-crawford/
/