Jackie Roosevelt Robinson was a professional baseball player who played as a second baseman. He was the first African-American to play straight in MLB (Major League Baseball) in the modern times. Robinson was the one who broke all the color barriers when he played as the first Black athlete with the Brooklyn Dodgers on April 5, 1947. He was named 'Rookie of the Year' the same year because of his sportsman courage and immense hard work. He then signed with National League MVP in the year 1949 and a World Series Champ in 1955.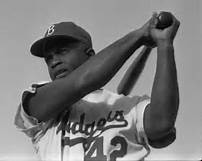 Robinson was born on the 30th of January 1919 in Cairo, Georgia. His family used to work as sharecroppers, and he was the youngest of all the five children of Jerry Robinson and Mallie McGriff. His parents gave him a middle name in honor of the former president of United States Mr. Theodore Roosevelt. The family bond was going strong until their father left the family and they moved to Pasadena, California. Their extended family helped them to build a small house on their sharing plot where they started a new journey of life with the support of their mother who did various odd jobs day and night.
Jackie Robinson got raised in a relatively poor environment, but his hopes and aim were extremely high. He attended the John Muir High School and went to the Pasadena Junior College for further studies. In his college life, he was an expert in playing football, track, baseball, and basketball. He was awarded as one of the Most Valuable Player of the regions in baseball. After serving in the U.S. Army for two years, he got discharged in 1944 that made him play baseball and continue to it as a life-long profession. At that time Blacks and Whites used to play in different leagues, but he broke all the color barriers, and in 1946, he got selected as the first Black baseball player for the all-white Montreal Royals which was the farm team for the Brooklyn Dodgers.
Robinson had a tough time while playing in the all-white team as he was insulted and slurred because of his African background but somehow he had to confront all of that to play the big game. He then made a history by playing in the Major League Baseball and became the first African-American to win this title in the 20th century. After all the success, Jackie Robinson still faced a lot of harassment, but his will made him continue the big game.  Sadly, he is no more with us and died from diabetes and heart complications on the 24th of October, 1972.
Source Articles: