Arthur A. Fletcher organized his first civil rights protest at the Junction City Junior-Senior High School in 1943. Fletcher refused to allow his high school picture and those of his African-American students in his class to appear "at the back" of the school yearbook.
Born in 1924 in Phoenix, Arizona, his family moved frequently until Fletcher graduated from high school in Junction City, Kansas. He attended Washburn University in Topeka, Kansas, and graduated with a degree in political science and sociology. Football was Fletcher's sport and he excelled on Washburn's team before joining the Los Angeles Rams in 1950. He went on to play for the Baltimore Colts as their first African-American team member.
In 1969, President Nixon appointed Fletcher to the post of assistant secretary of wage and labor standards in the Department of Labor. On June 27, 1969, Fletcher implemented the Revised Philadelphia Plan, the nation's first federal affirmative action program. It required federal contractors to meet specified goals in minority hiring for skilled jobs in the notoriously segregated construction industry.
In 1972, following his career with the federal government, Fletcher took the position of executive director of the United Negro College Fund and helped coin the phrase "a mind is a terrible thing to waste." He later operated a business that trained companies to comply with governmental equal opportunity regulations. Fletcher spent a great deal of time touring the country for speaking engagements about equal opportunity rights and the benefits of affirmative action, and served as the chairman of the National Black Chamber of Commerce. He died July 12, 2005, in Washington, D.C.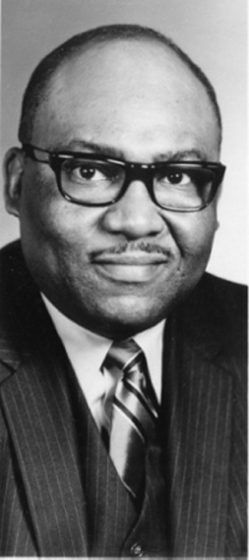 sources:
http://www.kshs.org/publicat/history/2011autumn_peterson.pdf
http://www.blackpast.org/perspectives/arthur-allen-fletcher-father-affirmative-action