In the way of natural progression, why not bring in Black Barbie Dolls. Black Barbie Dolls didn't follow immediately. It took some years to warm up to the idea. As a matter of fact. The first black Barbie came after Barbie's black friend Christie in 1968. To keep Ken company. Christie had a boyfriend, Steven who came out in 1988. The first black Barbie was spin off of a doll called Francie. Francie was for the most part just a shorter Barbie. Only Francie has far out colorful wardrobe. Francine cam into play in 1966. Francie was suppose to be Barbie's European cousin. It wasn't the doll Francie alone that spawn the first black Barbie. It was "Colored Francie" who debuted in 1967!
Colored Francie was made from the same mold as her counterpart. She bared the same eyes, nose, chin, etc. Meaning she was a Barbie dipped in chocolate. As you can imagine it hit the fan in the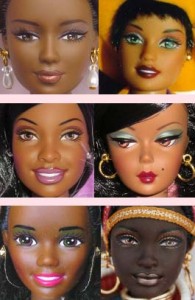 African American community and the doll was pulled in 1976. Now, if "colored Francie" was suppose to be Barbie's chocolate cousin it still left up to debate. See our Controversy section to see more.
The first Black Barbie debuted in 1980 though some say it was 1979. With the loving title "Black Barbie" and was made with the Steffie face mold. She word a red two piece the quickly transformed from a fashion savvy office woman to bathing suit. We can't over look the uncanny resemblance of the doll to Felicia Rashad. The Cosby Show was doing wonderful things in the 80's. It's would be suspecting to model the first Black Barbie after a women every little African American girl wanted to be when she grew up, "Claire Huxstable". The Black Barbie has had many facial, skin tone, and hair changes. The colors of the Black Barbies now cover the entire spectrum of African American women, not to mention ethnic women world wide.   The beauty in the change of they eye color, lip shape, cheekbones, chins, short hair, long hair dreadlocks and so much more. Each doll is beautiful in her own way, just like the beautiful women of color.