Hailing from Washington D.C., Bad Brains is a pioneer of the sonic, aggressive hardcore punk style with influences from reggae, punk, hard rock, and metal. The band's classic and current line-up is H.R. on vocals, his brother Earl Hudson on drums, Darryl Jennifer on bass, and Dr. Know on guitar.
Bad Brains got its start a year prior as Mind Power, a jazz fusion band in 1976. Early on, they had other musical interests such as heavy metal pioneers Black Sabbath, but a friend introduced them to punk bands that released albums that year. Another influence was Bob Marley.
FIRST RUN
The group took to punk and changed its name to Bad Brains after the Ramones' "Bad Brain." Sid McCray, who introduce them to punk, was the original lead singer but left in 1978. Replacing him would be guitarist H.R. whose vocals would be a trademark of the band's high energy, high speed style.
Prior to moving to New York and contributing to the city's hardcore scene, Bad Brains played in Washington D.C.'s underground scene. While their performances were a big reason crowds rolled in it was also the freshness of an all Black punk band that piqued interest.
The band would hang around D.C. until 1979 when it was blackballed among the city's clubs—hence the song "Banned in D.C." from its self-titled debut in 1982 and its 1983 re-named reissue Rock for Light. The first two albums were rooted in hardcore punk and reggae.
The 1990s saw issues in the band aggravated. H.R. and Earl Hudson wanted Bad Brains to be a reggae band while Dr. Know and Darryl Jennifer were more interested in hard rock and heavy metal. H.R and Earl Hudson would leave and were replaced on the 1993 release Rise.
The two returned for 1995's God of Love. This album was vintage Bad Brains and led to a tour with close friends the Beastie Boys. The band broke up in the wake of several incidents of violence involving H.R. attacking people on tour.
RECENT YEARS
Bad Brains reformed in 1998 and released several albums in the 2000s. I & I Survived got away from the signature 'Brains sound and focused more on reggae and dub sounds in addition to some hardcore punk. Build a Nation in 2007 was a return to the early sound and featured Beastie Boys' MCA as producer.
Following MCA's death in early 2012, the band dedicated its last album Into the Future to him. Currently, the band is working on its 40th anniversary album Mind Power, a return to Bad Brains' beginnings. Progress on the album has been delayed by health issues plaguing Dr. Know and H.R. The band is optimistic about completing the album and plans to do anniversary shows in Chicago in September 2017.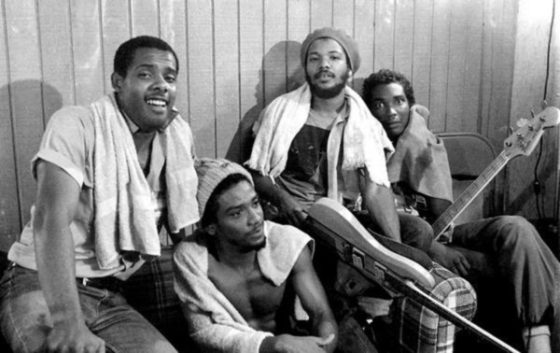 SOURCE
–https://web.archive.org/web/20080129145948/http://dc.metblogs.com/archives/2006/11/washngton_dcs_5.phtml
–https://www.discogs.com/artist/251561-Bad-Brains
RECOMMENDED PERFORMANCES
-Big Take Over (live): https://www.youtube.com/watch?v=5NAPYIMMbWQ
-Secret 77 (live): https://www.youtube.com/watch?v=Nimr_VKfzeY
-Banned in D.C (live): https://www.youtube.com/watch?v=XGzA8KXW3WI
-Sailin' On (live): https://www.youtube.com/watch?v=YDLtJgdTYx0