Benjamin Oliver Davis, Sr., was the first African-American general for the U.S. Army. His army career dated from the Spanish-American war to World War ll.
Davis was born on July 1, 1877, in Washington, D.C. Little is known about his early life, but his family was believed to be comfortably middle-class. He graduated from Howard University in 1898 and entered the army after graduation as a volunteer when the Spanish-American War was officially declared on April 25, 1898.
Davis served as part of the 8th U.S. Volunteer Infantry, an-all black unit, as a First Lieutenant. He later enlisted as a private in the 9th U.S. Cavalry, a unit of the regular army, and soon rose to the highest rank held by any Black soldier at the time.
After serving three years duty in Africa, he returned to active duty in the Philippines. Davis was given his own regiment to command, the 369th Cavalry New York National Guard, in 1937. He held the rank of colonel at this time. In 1940, he was promoted to Brigadier General, becoming the first black soldier to hold the rank of General in the Army.
In 1941, he reported for duty as a Brigade Commander with the 2nd Cavalry Division in Fort Riley, Kansas. Later that year, he was assigned duty as Assistant to the Inspector General in Washington, D.C., where he would continue to serve intermittently for the duration of his career.
Davis retired in 1948 after 50 years of military service. After a long battle with leukemia died, Benjamin Oliver Davis died in 1970.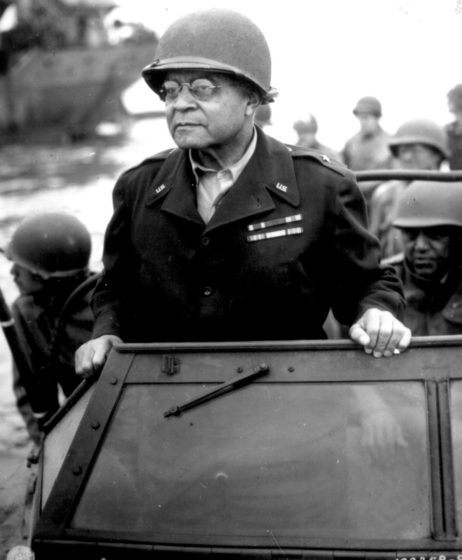 source:
http://www.history.army.mil/html/topics/afam/davis.html