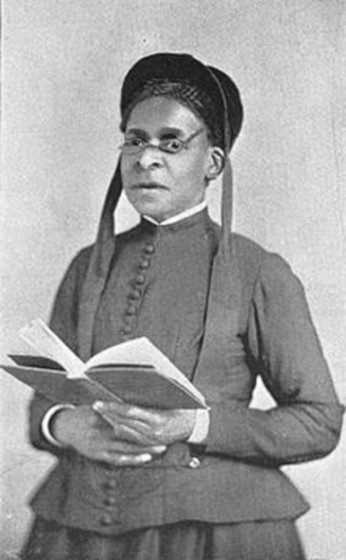 Julia A. J. Foote was born on May 21, 1823 Schenectady, New York to former slaves. Foote was an renowned evangelist and author. Her parents were devoted to their faith and believed strongly in educated their children. Because the Schenectady schools were segregated during the time, her parents hired her out as a domestic servant to a white family who used their influence to put her in a country school outside the city. She was only able to receive formal schooling between the ages of ten and twelve. But despite not being able to attend formally attend school during her later years, Foote spent a lot of her time reading and self-educating herself, especially in the Bible.
At the age of fifteen, she had a profound conversion experience and joined an African Methodist Episcopal church in Albany, New York. Years later she met her husband, a sailor, and moved with him to Boston. Foote devoted a great deal of her time to informal work throughout her community.
She often testified to her belief in the doctrine of sanctification. The controversial idea that a Christian could be sanctified totally freed from sin and empowered to lead a life of spiritual perfection had been under debate in Methodist circles for decades. Advocates of sanctification and perfectionism became leaders in the rise of "holiness" movements in evangelical denominations in the United States during the mid- and late-nineteenth century.
Foote's husband was always skeptical of her religious beliefs and often tried to keep her from public activities. She resisted against his arguments and he eventually left her. During the time, Women were not expected to assume public leadership positions, nor were they allowed to speak, except under restrictions, in most Christian churches. Yet Foote could neither deny her conscience nor stop the work that she felt had been given her to do. When she was refused access to the pulpit in a church in Boston, Foote started an independent preaching career. During the last decade of her life, she became the first woman to be ordained a deacon and the second woman to hold the office of elder in her denomination.  Foote died in 1900.
sources:
http://civilwarwomenblog.com/julia-foote/
http://aaregistry.org/historic_events/view/julia-j-foote-born