Jester Hairston is the grandson of slaves. His grandparents were slaves on Hairston plantation at Belew's Creek, North Carolina. Hairston was born July 9, 1901. An Arranger, Composer, Traveling Choir Leader, Actor and Story Teller. Remarkably his career has taken him all over the world. He has lectured and taught his arrangements and compositions of Negro Spirituals and folk songs to a couple of generations.
Hairston's life has been one of many facets. A career that started in the early 30's from Broadway to Hollywood. He was a star athlete in high school and college. He graduated college as a Cum Laude music major from Tufts University. He furthered his studies at Julliard School Music in New York.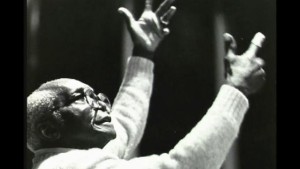 For 13 years he was assistant conductor of the Hall Johnson NegroChoir of New York. He trained choirs for many Broadway show In 1936 he came to Hollywood with Hall Johnson to do the chorus music for "GREEN PASTURES." In 1937 he became a founding member of the Screen Actor Guild. In 1943 he formed his own choir and arranged the choral background music for many of Hollywood's outstanding films. "CARMEN JONES" was one of the many musicals he did, it starred Dorothy Dandridge and Harry Belafonte.
As an actor Hairston played a number of character roles on TV and the big screen. He played on Amos and Andy for 15 years, both on TV and Radio Music Hall shows. Hairston said, "When I worked on Amos 'N' Andy I couldn't let it botherme that the other black characters were played by white because what could I do? It offended me, but the only way that a black man could get a role was to go ahead and take whatever the white man would give him because the pictures and studios belonged to him.
I didn't make any fuss. If I had, they would have called me a communist and ran me out of Hollywood. There weren't many blacks in SAG when I joined, but I had to join if I had any intention of staying out here. I worked with a composer named Dmitri Tiomkin on the score for "LOST HORIZON" (1937) and arranged the choral work for many of his scores. Tiomkin didn't give a damn what color you were so long as you could do the work.
Hairston usedl his gifts from God and God has blessed him to share those gifts with the world. Hairston is a "National Treasure."
article found @http://www.coloredreflections.com/decades/Decade.cfm?Dec=5&Typ=2&Sty=1&SID=95