On this day in Black history, Anthony Burns was returned to Virginia after escaping to Boston, Massachusetts in late 1853.
ESCAPE
Until the age of 19, he resided on the grounds of Charles Suttle in Richmond, Virginia. He allowed to find his own work and gave Suttle a cut of what was made. With the few freedoms he had under Suttle, Burns learned to read and write.
Anthony Burns managed to flee north to Boston onboard of a ship. By the terms of the Fugitive Slave Act of 1850, he could be returned to the South and law enforcement in the North would have to assist in the capture. The act in whole was one of a number of measures meant to settle the South, a major pillar of economic power in the U.S. at the time.
CAPTURE
Burns' mistake was sending a letter to his brother who was still enslaved under Suttle. The slaveholder headed into Boston provided ownership papers for Burns. He was captured and held for trial on May 24, 1854. Later that week a large group of abolitionists met to free the fugitive. The incident saw the doors to the courthouse breached, a shot rang out, and a deputy laying dead.
By the end of May 26, Anthony Burns was still behind bars and the jailbreak failed. The trial was basically for the show since the Fugitive Slave Act was concrete. He returned with Suttle to Virginia on June 2 with tens of thousands watching Burns leave. In all the cost to track and return Burns was around $1,400 or roughly $40,000.
FREEDOM
Abolitionists raised $1,200 to free Burns. Charles Suttle turned it down as he wouldn't accept money if it meant freeing Burns. He would eventually sell Burns for around $900 to a North Carolina farmer. Eventually, Reverend Leonard Grimes purchased Burns' freedom for $1,300. He returned to Boston a year later.
After making his way to the Midwest to get an education and preach, he would settle in St. Catharines, Ontario. He passed at 28 on July 17, 1862, as a result of tuberculosis.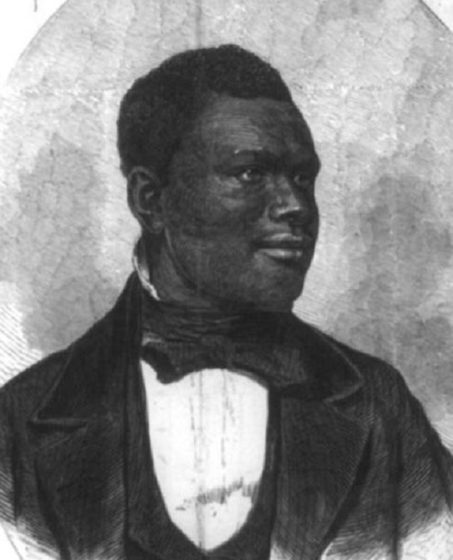 SOURCE
–http://www.pbs.org/wgbh/aia/part4/4p2915.html
–https://en.wikisource.org/wiki/Appletons%27_Cyclop%C3%A6dia_of_American_Biography/Burns,_Anthony