Colonel James E.P. Randall was born in Roanoke, Virginia. He attended Hampton University before entering into pilot training in the U.S. Air Force. After completing basic training at Randolph Air Force Base, Texas, he became a flight instructor at Perrin and Craig Air Force Bases in Texas and Alabama.
Randall is recognized for flying 75 missions over North Korea piloting F-51s during the Korean War. Between 1953 and 1957, he made eight jet fighter crossings of the North Atlantic Ocean. He served as a gunnery instructor in the F-100s at Nellis ed the Alert Facility in Spangdahelm, Germany. He was assigned on temporary duty to South East Asia in the F-105s. On his forty-fourth mission over North Vietnam, he was shot down, but rescued, treated and returned to the United States for further medical treatment.
Colonel Randall served thirty-six years in the United States Air Force, including active duty and reserve status. He flew combat missions in two wars. While serving, Randall was as Base Commander for Tyndall Air Force Base, Florida. His many accolades include the Distinguished Flying Cross, Bronze Star; Meritorious Service Medal, and the Purple Heart.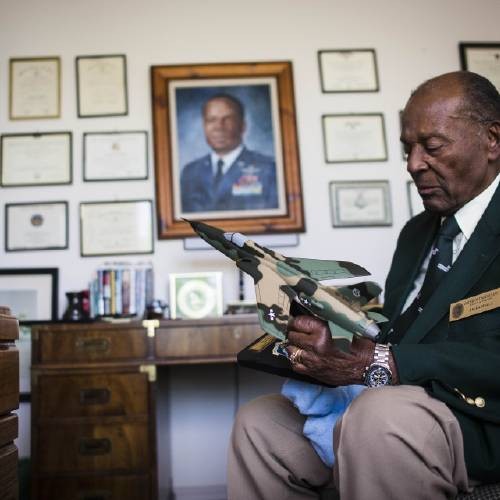 source:
http://www.trdudley.com/lahs2/BIO%20Randall,James%201949.htm