Bill Wilkerson was one of the first black pilots in the country. He flew 15 years for Piedmont Airlines, which became a part of US Airways in 1989. He was the second black person to earn the rank of captain with the company.
At age 16, Bill took his first flying lesson at Knoxville's Powell Airport. The expense of flying lessons and a lack of family support for something so "dangerous" were early obstacles but he soloed November 27, 1964, soon after his 18th birthday, before he even had a driver's license.
Wilkerson enlisted in the United States Air Force in 1966 and earned his Private, Commercial, Instrument, Multi-engine and Flight Instructor ratings while stationed at Davis-Monthan AFB in Arizona and then became Chief Flight Instructor at the Davis-Monthan Aero Club. He completed his service in the USAF in 1970, and later returned to Knoxville, and became the Chief Flight Instructor at Powell Airport, where he first learned to fly.
He later flew 15 years for the old Winston-Salem-based Piedmont Airlines and stayed on after the company merged in 1989 with what is now US Airways. Wilkerson started his career as a commercial pilot with 3,000 miles under his belt; he ended with 17,000. From Rome and Madrid to London and Frankfurt, Germany, he traveled to places that he once knew only from National Geographic.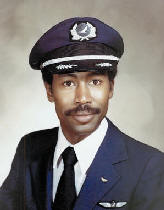 source: