Born a slave in Arkansas in 1849, Ned Huddleston (a.k.a Isom Dart) gained a reputation for being a notorious Wyoming Territory outlaw and rustler. Huddleston was  on of the best riders, ropers, and bronco-buster known of his time.  Many people also knew the black cowboy by the names "Black Fox" and "Calico Cowboy".
Huddleston was just 12-years-old when he accompanied his owner, a Confederate officer, to Texas during the Civil War. He was later freed at the end of the war. After given his freedom he headed straight for southern Texas near the Mexico border. He found as in the state as rodeo stunt rider and later became a master horseman.
At times, Huddleston grew tired of the wildlife. He met a Shoshone Indian woman in 1875, and they had a romantic love affair. But, the call of the wild was just too strong and Huddleston joined a notorious band of rustlers called, The Tip Gualt Gang. It was then he changed his name to, Isom Dart.
Although, Dart was fed up with the life being a rustler, the ranchers who were being tormented by his gang in town were evenly tired.  Dart established his own ranch in 1890, but local cattlemen suspected he had built up his ranch herd from cattle he'd rustled from their ranches. On August 3, 1900, as Dart came out of the front door of his ranch, the notorious, range detective, Tom Horn, who had been hired by local ranchers to rid the area of rustlers, shot killed him.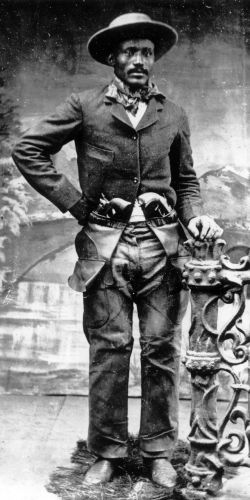 source:
http://blackcowboys.com/black-cowboys/isom-dart