Hailing from Cleveland, Ohio, Black Death was the first all-Black heavy metal band. This claim is also contested by the band Sound Barrier but is often attributed to Black Death which formed in 1977 and whose demo predates Sound Barrier's full-length "Total Control" by two years.
A DECADE OF BLACK DEATH
The band's original lineup consisted of Greg Hicks on guitar, Phil Bullard on drums, and Clayborn Pinkins on bass. It wouldn't find a lead singer until the following year when guitarist and vocalist Siki Spacek joined.
The band existed without a name for almost two years before original members Greg Hicks and Clayborn Pinkins came up with "Black Death." Pinkins wouldn't see what the band would grow into as he was murdered in early 1979. The band would go through another bassist before Darrell Harris joined making up the classic lineup heard on its 1984 debut.
They would get to start recording music for the full length after their early songs were well received in the Cleveland area. First, they recorded for a Cleveland heavy metal compilation which became a rare item. The band would fall apart in the late 1980s with members going into other bands and activities. Before Black Death ended there were plans for a second full-length called "The Black Assassin" and a few songs were recorded.
SOUND & LYRICS
Black Death's 80s sound was similar to other metal bands in the traditional metal vein with a grittier edge. The band was often mid tempo but you had tunes like "The Scream of the Iron Messiah" and "Street Walker," faster tunes and Black Death at its best.
Siki Spacek's vocals stood out during this period as he was to deliver some screams from his usual deep, gravelly voice. As for the production of the full-length, it was the baseline for the time. It definitely wasn't up there with more mainstream acts in heavy metal and other genres.
Lyrically, Black Death dealt with a love of heavy metal, relationships, and death.
LATE 2000s
As 2007 rolled around Phil Bullard tried to reform the band under the name "Mandrake." Greg Hicks and Siki Spacek were brought in but Spacek's personal problems resulted in his departure. The following year, Bullard passed away leaving Hicks in charge of the Mandrake. The band took up the name in 2009 and began playing shows in the Midwest. No longer an all-Black heavy metal band, it was made up members from cult and up-and-coming Cleveland acts.
Later in 2010, Spacek formed a new band called Siki Spacek's Resurrection. The band became Black Death Resurrected in 2014 and the revived version ended in 2010.
Black Death Resurrected released the album "The Return of the Iron Messiah" in 2015. The album is named after "Scream of the Iron Messiah" from Black Death's sole release. Currently the band is working on re-recordings of older songs and songs thought to be lost.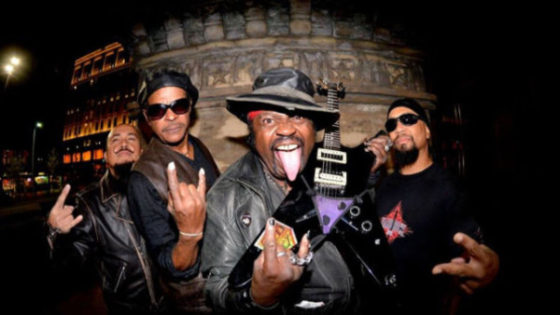 SOURCE
–https://www.metal-archives.com/bands/Black_Death_Resurrected/3540393964
–https://www.metal-archives.com/bands/Black_Death/665
SELECTED SONGS
-Scream of the Iron Messiah: https://www.youtube.com/watch?v=hd-XScHxzOk
-Taken By Force: https://www.youtube.com/watch?v=4r1POrt564I
-Black Death Resurrected performs Black Assassin: https://www.youtube.com/watch?v=e9BQGiV7j6k