"The Jackie Robinson of Professional Wrestling" Bobo Brazil would become a hero in the Detroit territory, a popular attraction elsewhere, and a wrestling hall of famer. Coming along several decades before Junkyard Dog and The Rock, he was the first major Black babyface in wrestling.
WRESTLING BEFORE DESEGREGATION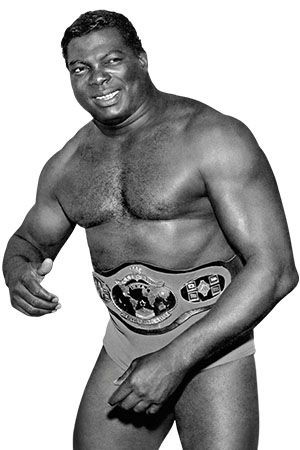 That title would seem excessive except that like baseball and every form of sports, athletics, and entertainment, wrestling was segregated. Unlike baseball, it wasn't desegregated until the 1960s.
In a similar fashion to how there were players that came before Jackie Robinson and some that were actually better, there were a few Black wrestlers pushing heavily for desegregation. For instance, Bearcat Wright said we would wrestle in one territory until the practice was ended.
Black wrestlers were wrestling with White wrestlers and the talented and charismatic ones were getting title opportunities and better booking, but then you had Bobo Brazil. Someone who became a definite superstar and drawing attraction in multiple territories.
BEFORE WRESTLING
Brazil was born Houston Harris in Little Rock, Arkansas and raised in Illinois and Michigan. Before getting into wrestling, he pursued baseball. He would enter the business following a chance meeting with wrestler "Jumping" Joe Savoldi, known for bringing the missile dropkick to American wrestling.
While in-ring mat wrestling ability and athleticism made for a remembered talent capable of great technical matches in wrestling, being big, anywhere over 6 foot, and over 230 pounds made for a decent recruit. Harris stood 6'6 and weight in the area of 270 pounds. He was brought in by Savoldi and promoted as "The South American Giant" Bobo Brazil.
EARLY WRESTLING CAREER
Bobo Brazil broke into wrestling in 1951, over a decade before wrestling would be desegregated in most territories. As a result, he often teamed with other Black wrestlers in tag matches such as Dory Dixon and Bearcat Wright and faced charismatic, menacing, and dangerous heels (bad guys) such as Ernie Ladd and Abdullah the Butcher. Depending on the territory he would face off against non-Black wrestlers.
Detroit was one such territory. Brazil quickly caught on as a fan favorite for several reasons. While he wasn't the most talented move-for-move wrestler, he was charismatic and could do a heated brawl against any of the Detroit and Chicago area heels.
His Coco Butt headbutt–a move that would become synonymous with Black and Polynesian wrestlers—was popular and simple. Also, Detroit and Chicago would see significant Black attendance, especially when Black wrestlers were on the card or at the top of the card.
In Bobo Brazil's case, the following two decades and very heated, almost lifelong feud would raise him to heights few Black wrestlers would exceed until Ron Simmons won the WCW World Heavyweight Championship.
SOURCE
–https://www.cagematch.net//?id=2&nr=852&gimmick=Bobo+Brazil
–http://www.wwe.com/superstars/halloffame/inductees/bobobrazil
SELECTED VIEWING
-Bobo Brazil in-ring interview in Big Time: https://www.youtube.com/watch?v=CWctgD-X8kc
-vs. Fritz Von Erich (1960): https://www.youtube.com/watch?v=IwNFCoXHNBM
-vs. Moose Cholak (1960s): https://www.youtube.com/watch?v=2KgD535nWgQ