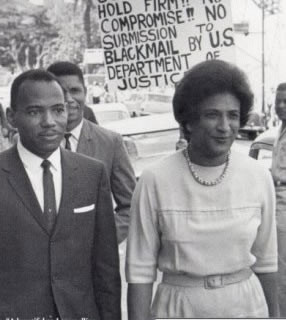 Constance Baker became the first black woman elected to the New York State Senate as well as being the first black woman to become a judge in the New York federal court. She represented well-known names including Martin Luther King Jr., Ralph Abernathy, and other civil rights leaders.
Constance Motley Baker was born on September 14, 1921, in New Haven, Connecticut to Rachel Huggins and McCullough Alva Baker. Her parents moved from Nevis, in the Caribbean to the United States. Her mother worked as a domestic worker, and her father worked as a chef for different Yale University student societies, including the secret society Skull and Bones.
While attending the integrated public schools, Baker was subjected to racism. She was denied entrance to a skating rink and the other at a local beach. By the time she reached high school, she had a profound sense of racial awareness. After hearing George Crawford speak, a Yale Law school graduate, she was inspired to attend law school. At NYU, she obtained her Bachelor of Arts Degree in 1943 and later received her law degree in 1946 from Columbia University School of Law. While in law school, she had been hired by Thurgood Marshall to work as a law clerk. She was assigned to court-martial cases filed after World War II.
After law school, Baker was hired by the NAACP Legal Defense and Educational Fund (LDF) as a civil rights lawyer.  Working as a lawyer with the NAACP Legal Defense and Education Fund, she helped Thurgood Marshall write the legal brief for the Brown case. As the fund's first female attorney, she became Associate Counsel to the LDF, making her a lead trial attorney in a number of early and significant civil rights cases. Baker visited churches that had been bombed, participated in singing freedom songs, and visited Rev. Martin Luther King in jail.
She became the first black woman ever to argue a case before the U.S. Supreme Court, in Meredith v. Fair she won James Meredith's effort to be the first black student to attend the University of Mississippi in 1962. In nine out of the ten cases argued by Motley before the Supreme Court, she was successful.
On February 4, 1964, Motley was elected to the New York State Senate (21st district), to fill the vacancy caused by the election of James Lopez Watson to the New York City Civil Court, making her the first African-American woman to sit in the State Senate.
Baker's accolades include induction into the National Women's Hall of Fame. In 2001, President Bill Clinton awarded her the Presidential Citizens Medal. The NAACP awarded her the Spingarn Medal, the organization's highest honor, in 2003. Motley was a prominent honorary member of Alpha Kappa Alpha sorority. Candace Motley Baker died on September 28, 2005.
Sources:
http://www.biography.com/people/constance-baker-motley-9416520
http://www.blackpast.org/aah/motley-constance-baker-1921-2005