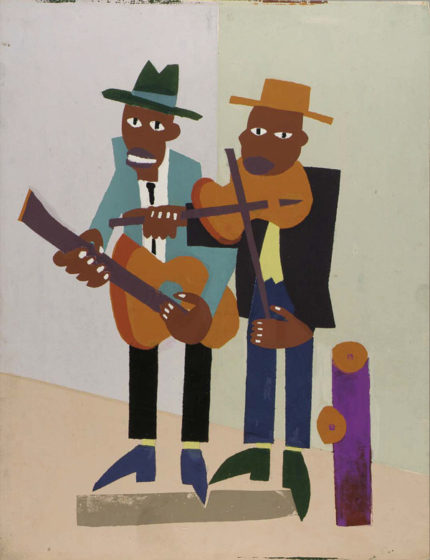 William Henry Johnson was an African-American painter born in Florence, South Carolina. He became a student at the National Academy of Design in New York City, working with Charles Webster Hawthorne.
Johnson was born March 18, 1901, in Florence, South Carolina, to Henry Johnson and Alice Smoot. He attended the first public school in Florence, the all-black Wilson School on Athens Street. It is likely that Johnson was introduced to sketching by one of his teachers, Louise Fordham Holmes, who sometimes included art in her curriculum.
He moved from Florence, South Carolina, to New York City at the age of 17. He later lived and worked in France, where he was exposed to modernism. After Johnson married Danish textile artist Holcha Krake, the couple lived for some time in Scandinavia. There he was influenced by the strong folk art tradition.
Johnson and wife moved to the United States in 1938. He eventually found work as a teacher at the Harlem Community Art Center, through the Federal Art Project. There he and other teachers instructed about 600 students per week, as part of a local Federal Art Project supported by the Works Progress Administration.
His paintings often celebrated the African American culture and imagery in the urban settings of pieces such as Street life – Harlem, Cafe, and Street Musicians, and in the rural settings of Farm Couple at Work, Sowing, and Going to Market. Harsher realities of Negro life were depicted in Chain Gang and Moon over Harlem, which was a response to the 1943 racial riots in New York.
In 1946, Johnson left for Denmark to be with his wife's family after she died from breast cancer. However, his behavior became increasingly erratic. At Ullevål Hospital in Oslo in spring 1947, he was diagnosed as suffering from syphilis which had impaired both mental and motor function. As a U.S. citizen who was no longer considered mentally competent, he was sent back to New York by the U.S. Embassy in Oslo. An attorney was appointed by the court as his legal guardian, and his belongings were put into storage. He entered the Central Islip State Hospital on Long Island on December 1, 1947, where he was treated for syphilis-induced paresis. He spent the last twenty-three years of his life there. He no longer painted after 1955 and died on April 13, 1970, of hemorrhaging of the pancreas.
source: