The Butte Colored Giants originated in the latter 1910s at the peak of Butte's prosperity as a mining town. Frank Yamer, proprietor of the Silver City Club, a local black nightclub, operated the team during its early years in which it was often called the Silver City Giants.
The Negro baseball team was based in Butte, MT, that competed independently from 1917-1921, in the Butte Independent League from 1922-1923, independently in 1933, in the Butte Intercity League in 1934, and in the Montana State League from 1935-1936, and independently from 1937-1939. The team had strong ties to Arkadelphia, AR.
The team found success leading into the early 1920s, the Colored Giants became well-known and respected in Butte and its surrounding mining communities despite a local black population of less than 1%. Competition from local white teams comprised the majority of the Colored Giants' schedule. In 1922, the team entered the otherwise all-white Butte Independent League, defeating five other local teams to lay claim to the league championship. Returning to league play again in 1923, the Colored Giants successfully defeated Meaderville in the playoffs, securing back-to-back championships and a place in Butte baseball lore.
Yet, the Colored Giants achieved their greatest significance in the mid 1930s. The team was reorganized in 1933 with Arkadelphia native Doug Jackson as manager. The Colored Giants were given the privilege of becoming the only black team to enter the 1935 Montana State League. The eight-team league represented the highest level of baseball in Montana.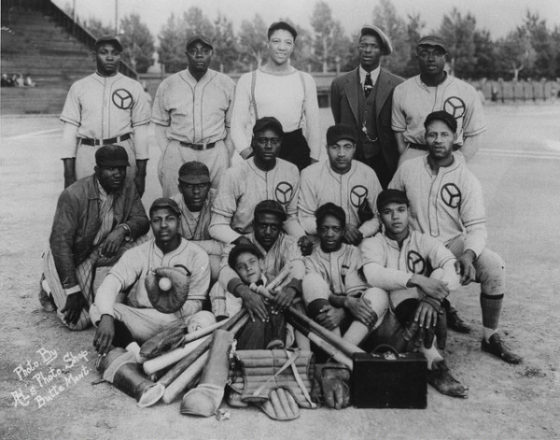 source:
http://arkbaseball.com/tiki-index.php?page=Butte+Colored+Giants