Have you heard of "Sophiatown?" It was an African town seeping in black culture, with jazz, blues music, and some of the most famous writers, politicians and artists of its time. However, despite its rich culture, it was destroyed to keep ethnic groups from mixing with blacks. The city was also one of the oldest black areas in Johannesburg and its destruction represents South Africa under apartheid.
Sophiatown was part of Waterfall farm, and over time, it included the neighboring communities of Martindale and Newclare. The area was purchased by Hermann Tobiansky in 1897; the town named after Tobiansky's wife, Sophia, and some of the streets after his children.
Many South Africans had freehold rights, and had bought properties in the suburb before the Natives Land Act of 1913. The people living in the town were free to own land and build their homes to match their tastes and finances. By the late 1940s, Sophiatown was populated with as many as 54,000 Black Africans and a mixture of other races.
It was not long before white working-class people in neighboring towns felt they were living too close to the black population. From 1944 onwards, the Johannesburg City Council planned to move the black population out of the Western Areas, including Sophiatown. After the victory of the National Party in 1948, relocation plans were debated at a national political level. It was soon decided under the Immorality Amendment Act, No. 21 of 1950 that people of mixed races could no longer reside together.
Plans to remove and segregate by force soon followed the political decision. The residents of Sophiatown worked together to protest against the forced removals. The group created the slogan "Ons dak nie, ons phola hier," which is loosely translated to mean "we won't move."
Powerful African leaders, such as Nelson Mandela, Helen Joseph, and Ruth First, became involved in the resistance movement. However, on February 9, 1955, 2000 policemen showed up with rifles, clubs, guns and forced the black families of Sophiatown to Meadowlands, Soweto. Other ethnic groups living in the town were forced to leave as well, and Sophiatown was eventually destroyed and removed from the map of Johannesburg.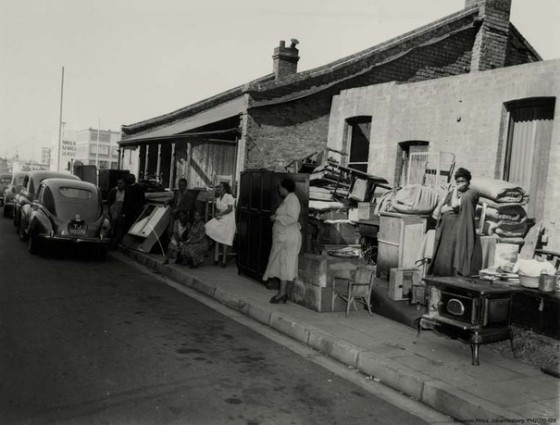 source:
http://southafricaproject.web.unc.edu/background-2/sophiatown/
http://www.sahistory.org.za/topic/sophiatown-timeline-1899-1955
http://www.southafrica.info/about/history/sophiatown50.htm#.VoF5yo-cEiQ