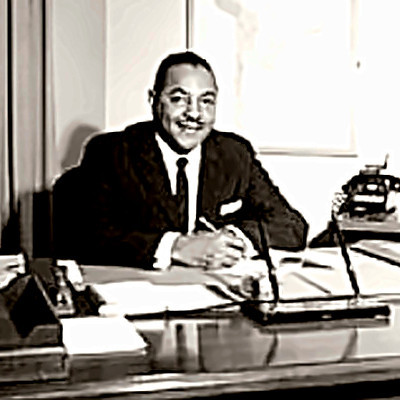 Carl Thomas Rowan was an American government official, journalist and author. Rowan was born in Ravenscroft, Tennessee on August 11, 1925 to Johnnie, a cook and cleaner, and Thomas Rowan, who stacked lumber. He was raised in McMinnville, Tennessee and was determined receive a quality education.
He graduated from Bernard High School in 1942 as class president and valedictorian and later studied at Tennessee State University and Washburn University. In 1947, he graduated from Oberlin College and later was awarded a master's degree in journalism from the University of Minnesota. He went on to be a copywriter for The Minneapolis Tribune (1948–50), and later became a staff writer (1950–61), reporting extensively on the Civil Rights Movement.
In 1961, Rowan was appointed Deputy Assistant Secretary of State by President John F. Kennedy. The following year, he served as a delegate to the United Nations during the Cuban Missile Crisis. Rowan became the U.S. Ambassador to Finland in 1963. In 1964, Rowan was appointed director of the United States Information Agency (USIA) by President Lyndon B. Johnson. In serving as director of the USIA, Rowan became the first African American to hold a seat on the National Security Council and the highest level African American in the United States government.
Carl Rowan was a well known and highly decorated journalist. His columns were published in more than one hundred newspapers across the United States. In 1968, he received the Elijah Parish Lovejoy Award as well as an honorary Doctor of Laws degree from Colby College. Rowan gained public notoriety on June 14, 1988, when he shot an unarmed teenage trespasser, Neil Smith, who was on his property illegally. "The interloper was a near-naked teenager who had been skinny-dipping with friends in Rowan's pool, and the columnist's weapon was an unregistered, and thus illegal, .22 caliber pistol." Rowan was tried but the jury was deadlocked; the judge declared a mistrial and he was never retried.
sources:
http://www.notablebiographies.com/Ro-Sc/Rowan-Carl.html
https://www.britannica.com/biography/Carl-Rowan