147 students were brutally murdered by militant group al-Shabaab at Garissa University College in Kenya this April. Despite the tragedy in Kenya, it's pretty clear that their deaths haven't received the same attention as another terror attack earlier this year: the shooting. Where, some asked, was the international outcry? When would world leaders flock to march in solidarity with Garissa?
Kenyan blogger Ory Okolla Mwangi is looking to change that with #147notjustanumber. Mwangi told the Wall Street Journal that the hashtag was an "effort to humanise the victims of terror"; she wants to remind the world that the students who died are people, not statistics.
— Ory Okolloh Mwangi (@kenyanpundit) April 4, 2015
We will name them. One by one. They are these "young Africans" we speak of all the time. Chasing dreams. #147notjustanumber — Ory Okolloh Mwangi (@kenyanpundit) April 4, 2015
After Mwangi created the hashtag, people have used Twitter to remember the people who lost their lives. The friends and family of the victims have also joined in, sharing photos and stories of the 147 students.
At a vigil held earlier this week in Nairobi's Uhuru Park, the critically acclaimed photojournalist Boniface Mwangi told CNN: "We need to talk about the bright futures cut short. Today's meeting will be a calling to say, 'We need to remember the 147; they are not just a number.' We are trying to avoid remembering these people as just a number."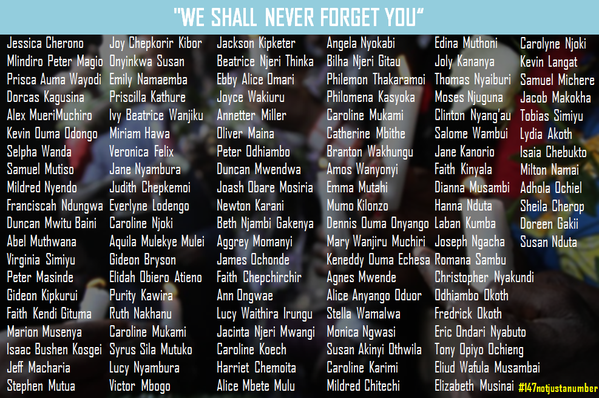 Here are just a few of the faces:
RIP Elizabeth Nyangarora. Graduated in 2012 from St Andrews Kanga Girls High. #147notjustanumber #TheyHaveNames pic.twitter.com/CPVPzNw0RB

— Tom Vandenbosch (@TVandenbosch) April 5, 2015
Dadly Mose #147notjustanumber #TheyHaveNames pic.twitter.com/vXF9WPZp7x — Maskani Ya Taifa (@Maskani254) April 5, 2015
Doreen 'Specialrose' Gakii #147notjustanumber #TheyHaveNames pic.twitter.com/LWq8CNxu8w

— Maskani Ya Taifa (@Maskani254) April 5, 2015
This is Tobias, he died in #GarissaAttack; to us he's not a number, he's a son, bro, friend. #147notJustANumber pic.twitter.com/dUSLXnCv9V — Mr. B (@Benogola) April 5, 2015
R.I.P Ruth Esiromo she was killed by the terrorists according to her boyfriend. Indeed #147notjustanumber pic.twitter.com/b1aUvipFZk

— Cyprian, Is Nyakundi (@C_NyaKundiH) April 4, 2015
Lived & died for country … KDF Soldier Solomon Oludo. We honor your life & sacrifice. #147NotJustANumber pic.twitter.com/d8xSCOLz9M — ZION (@Kirinyaga_) April 4, 2015
This is RispherMaggy a student in Garissa. She is nowhere to be seen even in the mortuary. #147notjustanumber pic.twitter.com/IibweWZlUg

— bwiboh makulusabaa (@ODMtoto01) April 5, 2015
Mary Muchiri Shee, Miss Garissa University #147notjustanumber We will name them one by one. pic.twitter.com/WuUBOkBsye — Tom Vandenbosch (@TVandenbosch) April 5, 2015
Lydia Melody Obondi #147notjustanumber #TheyHaveNames pic.twitter.com/Yc1SakwNrz

— d. winny (@winmitchqq) April 5, 2015
Alex an only child 19.Killed under a hail of bullets. #GarissaAttack #147NotJustANumber pic.twitter.com/2PcZzgRAJN — Muthoni☆ (@MsoMuthoni) April 5, 2015
Survivor Rachel Gikonyo was shot 7 times,stomach,chest and her spine. She can't feel her legs. #147notjustanumber pic.twitter.com/YW7CKYdHG8

— Boniface Mwangi (@bonifacemwangi) April 10, 2015
RIP Jeff Macharia Minjire. Gone to soon. #TheyHaveNames #147notjustanumber pic.twitter.com/DdWbqOnfck — Ory Okolloh Mwangi (@kenyanpundit) April 10, 2015
RIP Laban Kumba, a talented student leader. A brave man, he actually fought with the terrorists! #147notjustanumber pic.twitter.com/pKoEas6nxJ

— Tom Vandenbosch (@TVandenbosch) April 8, 2015
#147notjustanumber She has a name: Macline Ubue, she is not just a number pic.twitter.com/zsnUIVIhSv — Mungai Andrew Gichuh (@Andychuho) April 6, 2015
Veronica Syokau from Kitui. 2nd year. Loved swimming. Her mom still in shock. #147notjustanumber pic.twitter.com/CjxhibOhzn

— Tom Makau (@tommakau) April 6, 2015
RIP Angela 'Ka/Jojo' Kimata. We will name them one by one. #147notjustanumber #TheyHaveNames via @GhekoLishous pic.twitter.com/Yj4sgL9qfT — Tom Vandenbosch (@TVandenbosch) April 5, 2015
Yvonne Makori, a friend, a sister, a daughter, a family's only hope #TheyHaveNames #147notjustanumber pic.twitter.com/StbDrWz7bt

— Auntie Mimi (@amoitmiriam) April 5, 2015
@JudyKosgei @C_NyaKundiH @bonifacemwangi….she was full of life…a dear to all… R.I.P #147notjustanumber pic.twitter.com/pHM6pUIB4U — Kimeli alex (@AlexKimeli) April 5, 2015
The young man in white died in the attack, his government could not protect him #147notjustanumber pic.twitter.com/jwjzK70lkV

— Cyprian, Is Nyakundi (@C_NyaKundiH) April 4, 2015
RT @Maskani254: Jeff Macharia #147notjustanumber #TheyHaveNames pic.twitter.com/46yA3jmaU5 — Jotham.mosh (@jaypash) April 11, 2015
RT @TVandenbosch: RIP Jacinta Njoki. She was a 2nd year student and the Red Cross treasurer. #147notjustanumber pic.twitter.com/fyJSLSCa6u htt…

— Jotham.mosh (@jaypash) April 11, 2015
RT @InsecurityKE: Tonie Wangu #147notjustanumber #TheyHaveNames http://t.co/OVy6rLxoEz pic.twitter.com/FGszGydh50 RT @Maskani254: — Jotham.mosh (@jaypash) April 11, 2015
#147notjustanumber #TheyHaveNames DADLEY MOSE. You're NOT forgotten. RIP pic.twitter.com/ehBKnTGwrb

— Security Alerts (@InsecurityKE) April 6, 2015
Original Article Found At QZ.com