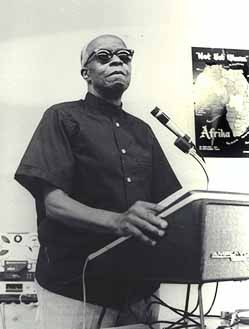 Chancellor Williams was an African-American sociologist, historian, and writer. He is recognized for his work on African civilizations before their encounters with the Europeans; his major noted work is The Destruction of Black Civilization.
Williams was born on December 22, 1893, in Bennettsville, South Carolina, as the last of five children. His father was born into slavery but later gained freedom and voting after the American Civil War. His mother Dorothy Ann Williams worked as a cook, nurse, and evangelist.
Encouraged by a sixth-grade teacher, he sold The Crisis, published by the National Association for the Advancement of Colored People (NAACP); and The Norfolk Journal and Guide, as well as reading them and using their recommended books to direct his studies.
Williams began his studies abroad in England as a visiting professor at the universities of Oxford and London in 1953 and 1954. In 1956, he did field research in African history at Ghana's University College. At that time, his focus was on African achievements and the many self-ruling civilizations which had arisen and operated on the continent long before the coming of Europeans or East Asians. His last study, completed in 1964, covered 26 countries and more than 100 language groupings.
In 1971/1974, Williams published his major work, The Destruction of Black Civilization: Great Issues of a Race Between 4500 B.C. and 2000 A.D., placing it with a white publisher. The following year, the book received an award from the Black Academy of Arts and Letters (BAAL), founded in New York in 1969.
Williams worked for years to expand and revise the book before publishing the second edition. He had it published by Chicago's noted Third World Press, a black-owned firm. When published in 1987, the second edition of the book received wide critical acclaim from the African-American community. Williams died of respiratory failure on December 7, 1992.
Sources:
Video: Youtube
http://aalbc.com/authors/author.php?author_name=Chancellor+Williams
http://deborahgabriel.com/wp-content/uploads/2010/05/The-legacy-of-Chancellor-Williams-in-The-Destruction-of-Black-Civilization-Part-1.pdf