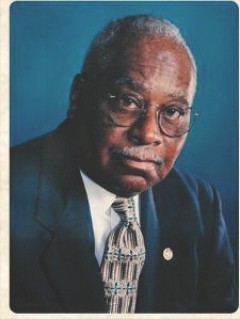 Demetrius Newton was a politician and civil rights lawyer. He filed lawsuits to end desegregation, and represented Martin Luther King, Jr., Rosa Parks, and others in cases related to civil rights. He then served in the Alabama House of Representatives, representing the 53rd district, from 1986 to his death in 2013.
Newton was born in Fairfield, Alabama. After graduating from Fairfield Industrial High School in attended Wilberforce University where he received his Bachelor of Arts degree and later his Juris Doctor from the Boston University School of Law in 1952.
In order to keep from desegregating the University of Alabama, the state of Alabama paid Newton to attend a law school outside of the state.  It was at Boston University, where Newton first met Martin Luther King, Jr., who was enrolled as a seminary student.
After completing law school, Newton served in the United States Army's 325th Regiment of the 82nd Airborne Division during the Korean War. Newton moved to Birmingham, Alabama, after the service where he worked as a civil rights attorney.
He was a member of the Alabama Christian Movement for Human Rights where he filed numerous lawsuits that were aimed at defeating segregationist laws. He represented King during the Selma to Montgomery marches. Newton also filed the first lawsuit under Title VII of the Civil Rights Act of 1964.
From 1972 to 1978, he served as a judge in judge in Brownville, Alabama. Newton was former city attorney for Birmingham and had served in the legislature since 1986. He served as the first black person as speaker pro tem of the Alabama House of Representatives. Demetrius Newton died September 11, 2013.
sources:
https://ballotpedia.org/Demetrius_Newton
http://blog.al.com/wire/2013/09/rep_demetrius_newton_first_bla.html