Charles Alfred Anderson, Sr., served as the chief civilian flight instructor for the Tuskegee Institute's groundbreaking program to train black pilots. Anderson was tasked with training the famous World War II Tuskegee Airmen. Between 1940 and 1946, he was responsible for supervising the primary flight instruction of approximately 1,000 African American pilots and flight personnel.
Anderson was born in Bryn Mawr, Pennsylvania, in 1907. As a young boy, he was fascinated with airplanes and flying. By the age of 20, he wanted to take flying lessons, but could not find an instructor that accepted black students. He ended up training himself by reading books and observing other professional pilots. Using his savings combined with a loan from family and friends, he purchased a used airplane when he was 22 for $2,500.
He developed the necessary skills to fly and completed the required maneuvers with proficiency. However, obtaining his actual commercial license proved to be difficult. With the help of German World War I pilot, Ernest Buehl, he was eventually given an official flight check in 1932. Performing flawlessly at the controls, Anderson became the first black American to receive an air transport rating from the Civil Aeronautics Administration.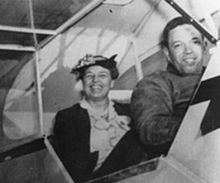 Anderson started working with Dr. Albert Forsythe, a black physician who became his partner and financial supporter. The two completed numerous record-breaking flights. In the late 1930s, Anderson began instructing aviation students throughout the Washington, D.C. His expertise in this field ultimately landed him a position teaching civilian pilot training courses at Howard University. In 1940, the Tuskegee Institute recruited Anderson to head its civilian pilot training program in Alabama.
In 1941, First Lady Eleanor Roosevelt made an extensive tour of the area. When Mrs. Roosevelt met Chief Flight Instructor Anderson, she asked him about the popularly-held belief that black people could not fly. In response, Anderson promptly invited her to take a flight with him over the Tuskegee campus. The two flew for 40 minutes, which ultimately popularized black aviation in America.
Tuskegee Institute was one of six black colleges to participate in a Civil Aeronautics Authority initiative in order to create a pool of civilian pilots to respond to wartime emergencies. When he joined Tuskegee as its Chief Flight Instructor, Anderson was the only African American in the nation with a commercial pilot's license. Anderson was responsible for training the Tuskegee Airmen and preparing them for aerial battle in World War II.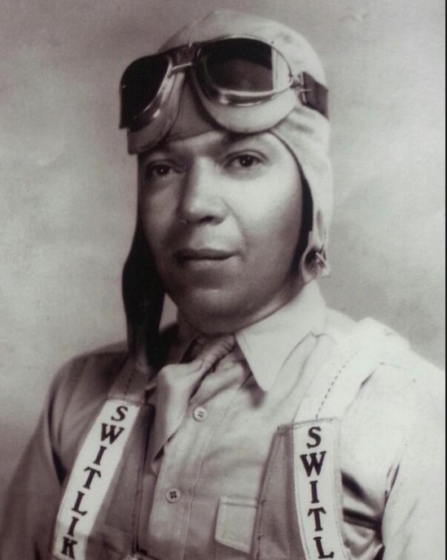 sources:
http://about.usps.com/news/national-releases/2014/pr14_013.htm
http://www.nationalaviation.org/z-anderson-charles-alfred/