Izola Ware Curry is known for trying to kill Dr. Martin Luther King, Jr. in 1958. Curry was born in Adrian, Georgia, and was married to James Curry. In the late 1930s, Curry separated from her husband and moved to New York City. She did domestic work, and at one point was doing well until something began to change in her mind.
Curry's thoughts began to distort, thinking that she had false enemies. She feared the NAACP. She thought its members were Communists who were out to get her. Her life soon began to spiral out of control. So, she felt it was only one thing for her to do get rid of the leader of the so-called Communists.
On September 21, 1958, Curry took a letter opener and plunged it into the chest of Dr. King while he was visiting New York. It was reported that had Dr. King sneezed after being stabbed, he would have bled to death. The letter opener was right near the aorta.
Curry was arrested at the scene and questioned by the police. Curry indicated that the NAACP had been torturing and boycotting her. When the police asked Curry why did she stab Dr. King, she told them "if it wasn't him it would have been me, he was going to kill me." She was committed to Bellevue Hospital and found not competent to stand trial.
On October 20, 1958, Curry was committed to Matteawan State Hospital for the criminally insane and received a diagnosis of paranoid schizophrenia. There are no records explaining what happened to Curry after being admitted into Matteawan State Hospital.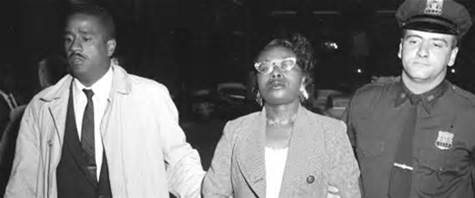 sources:
http://kingencyclopedia.stanford.edu/encyclopedia/encyclopedia/enc_curry_izola_ware_1916/
http://aaregistry.org/historic_events/view/cold-case-izola-ware-curry