Charles Burleigh Purvis was a prominent physician in Washington, D.C. who also was a founding member of Howard University Medical School. Purvis was the first black physician to attend a sitting president, he attended President James Garfield after he was shot by an assassin in 1881.
Purvis was born in Philadelphia on April 14, 1842. His parents were abolitionists, Robert Purvis and Harriet Forten Purvis. When he was two years old, the family moved to Byberry in Philadelphia. After he completed his primary education, Purvis enrolled at Oberlin in 1960 and stayed for two years. In 1862, he entered the Medical College at Western Reserve in Cleveland.
In 1864, Purvis served in the Union Army in the US Civil War as a military nurse at Camp Barker which became a model for Freedmen's hospital, and he graduated from Western Reserve in March 1865. Two months after graduation he took the position of the acting assistant surgeon with a rank of the first lieutenant and was assigned to duty in Washington, DC until 1869. After his enlistment ended in 1869, he began teaching at Howard University.
On June 9, 1869, Purvis was proposed for membership of the Medical Society of DC, a branch of the American Medical Association. He was considered eligible but did not receive enough votes. Another black physician, A. W. Tucker, was proposed on June 23 but was also rejected. In response, these three formed the National Medical Society. Purvis continued to serve as faculty secretary of Howard University as well as surgeon-in-chief at Freedmen's until the mid-1890s. In 1890, he became the president of the Howard University faculty.
In 1904, Purvis was granted a license to practice in Massachusetts and admitted to the Massachusetts Medical Society, and in 1905, he moved to Boston. Purvis resigned from the Howard University medical school on May 28, 1907. He was appointed professor emeritus on January 21, 1908. He was a Mason. He was the first black person to serve on the D. C. Board of Medical Examiners and the second black instructor in an American Medical School. Charles Purvis died on December 14, 1929, in Boston at the age of 87.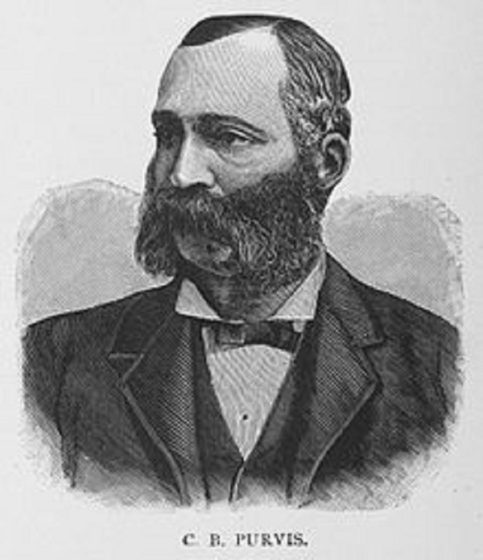 sources:
http://www.blackpast.org/aah/purvis-charles-burleigh-1842-1929