Civil rights leader Hosea Williams often referred to himself as the "thug" of the Southern Christian Leadership Conference (SCLC). He was known for his militancy and ability to organize demonstrations and mobilize protesters. Throughout this time, he was arrested more than 125 times. Even Dr. Martin Luther King out of endearment called him "my wild man, my Castro." Williams is also known as the founding president of one of the largest social services organizations for the poor and hungry on holiday, Hosea Feed the Hungry and Homeless. His famous motto was "Unbought and Unbossed."
Williams was born in Attapulgus, Georgia, in 1926. His mother was a blind, unmarried teenager who died shortly after giving birth to him. His grandparents were left to raise him. At age 14, he left his grandparents' home and headed to Tallahassee, Florida, on his own. He worked odd jobs for three years before returning to Georgia.
He later enlisted into the U.S army during World War II. While in the army, Williams was able to work his way to staff sergeant in an all-black unit. However, he was injured by shrapnel and spent over a year recuperating.
When Hosea returned back to the United States, he completed high school and went on to earn a bachelor's degree at Morris Brown College in Atlanta, and a master's degree from Atlanta University. He later landed a job working for the U.S Department of Agriculture in Savannah, Georgia, until 1963.
Williams joined the National Association for the Advancement of Colored People (NAACP) and began participating in grassroots organizing. On any given day, he could be found giving speeches in the public park on his lunch break against segregation. At the SCLC's board meeting in 1962, Dr. King personally recommended that Williams join the SCLC executive board, an honor Williams accepted.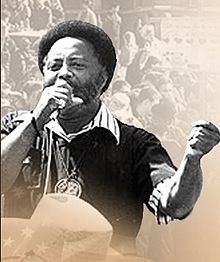 In 1965, Williams became the head of the Summer Community Organization and Political Education (SCOPE) Project. He oversaw a half-million-dollar budget and worked with thousands of volunteers. He was later promoted to the role of southern project director by 1966. Williams toured projects, often rallying supporters with Dr. King, and walked in the March Against Fear to protest the shooting of James Meredith.
After the death of Dr. King, he became the executive director of SCLC. Williams held the position until he began to have differences with parties in the organization. Williams entered mainstream politics, and won the election to the Georgia General Assembly in 1974.
In 1987, Williams led the largest civil rights march in Georgia history into all-white Forsyth County. The marchers were met by numerous of Ku Klux Klan members and white supremacists. Williams died in 2000.
source:
http://www.georgiaencyclopedia.org/articles/history-archaeology/hosea-williams-1926-2000