Daniel Jenkins founded the "Jenkins Orphanage" on December 16, 1891. The  orphanage received its official charter from the State of South Carolina in 1892. The mission was to provide a safe, secure, stable, and loving environment for destitute young boys and girls in need.
Jenkins was a pastor of a black church who also worked as a laborer. On a cold winter day in 1891, he encountered four young boys who were living on the streets, abandoned by their parents. All the boys were under the age of 12  and were huddled together in a railroad car.
Jenkins was moved by the boy's plight and determined to help them, as he knew what it was like to live the life of an orphan child. He had been born a slave, but was let go from his plantation and left to survive on his own. He then traveled from farm to farm, trying to work and find room and board. Jenkins took the four young boys home to his wife and offered them shelter, food, and a safe place to rest their heads.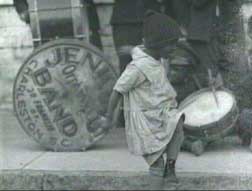 In 1891, Jenkins petitioned the Charleston City Council to allow him to use space in an abandoned building for the orphanage. Jenkins received approval and a $100 stipend. The first year alone, the orphanage took in 360 boys ranging in age from 5 to 18. Jenkins soon began to accept children as young as 3 and allowed them to stay until they were 20. The children living in the orphanage were able to acquire skills such as farming, printing, baking, and butchering. Jenkins' main goal was to prepare the young children to be able to leave the orphanage and go on to become productive citizens.
One of the most well-known programs at the Orphanage was the "Jenkins Orphanage Band." The band was started when the orphanage received a donation of instruments. Jenkins sought donation of the instruments hoping to start a band that could play concerts to help raise money for the orphanage. Many of the orphanage band members went on to have successful music careers playing with band leaders like Count Basie, Dizzy Gillespie, Duke Ellington, and Lionel Hampton.
Over the years, Jenkins received numerous awards and distinctions from both the white and black communities throughout the south. His international fame and reputation, were cemented when Time magazine profiled him in the music section for their issue released on August 26, 1935.
sources:
http://www.sc.edu/orphanfilm/orphanage/symposia/scholarship/hubbert/jenkins-orphanage.html
http://northbysouth.kenyon.edu/1998/music/jenkins/jenkins-orphanage.htm